Nutritional Info
Servings Per Recipe: 8
Amount Per Serving

Calories: 135.5
Total Fat:

2.5 g

Cholesterol:

0.0 mg

Sodium:

164.3 mg

Total Carbs:

22.8 g

Dietary Fiber:

6.1 g

Protein:

7.5 g
Report Inappropriate Recipe
Black Bean and Green Burgers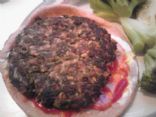 Introduction
I even surprised myself with these burgers....
I even surprised myself with these burgers....
Ingredients
2 cups Kale




2 cups Swiss Chard




1 clove Garlic




Juice of 1 small orange




1 cup water or vegetable broth




1 large onion, chopped





1 can black beans black, drained




2 cup brown rice, cooked and cooled




1/4 cup Nutritional Yeast




1/8 tsp chipotle seasoning




1 T Mexican Spice mix





1/4 tsp olive or grapeseed oil
Directions
Wash and cut kale and Swiss chard into bite size pieces and cooked with 1cloves of garlic and the juice of 1 orange. The vitamin C from the orange will make the iron and calcium more absorbable. You can use left over greens or other vegetables for this recipe. Should have 2 cups cooked, cooled vegetables. Place greens and chopped onion in food processor bowl and pulse 5-10 times. Set aside.

Drain black bean and place in processor bowl. Add rice and pulse 5-10 times.

Add bean/rice mixture to greens and mix well. Add chipotle, Mexican seasoning and salt and pepper to taste.Add nutritional yeast and mix until well blended.

With wet hands make into 8 patties (approx 120 grams each) Chill for at least 1 hour before cooking. Heat small amount of oil in heavy frying pan and add patties leaving enough space for easy turning. Fry 5 minutes each side on medium heat until brown.

Nutritional information is for pattie only...pictured on Ezekiel pita pocket, slice tomato, veganise, organic catsup and mustard.

Number of Servings: 8

Recipe submitted by SparkPeople user MISSJCISRUNNING.


Great Stories from around the Web
Rate This Recipe
Member Ratings For This Recipe