Nutritional Info
Servings Per Recipe: 12
Amount Per Serving

Calories: 229.0
Total Fat:

9.8 g

Cholesterol:

0.3 mg

Sodium:

119.1 mg

Total Carbs:

29.0 g

Dietary Fiber:

4.1 g

Protein:

6.6 g
Report Inappropriate Recipe
Christmas Panettone
Submitted by: TAZMOMSGOL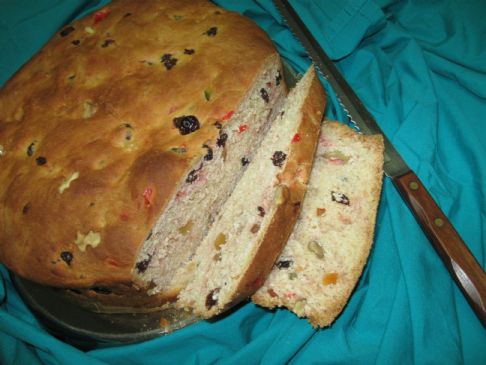 Introduction
Lowfat, lower sugar, lower calorie version of the traditional Holiday Italian Sweet Bread
Lowfat, lower sugar, lower calorie version of the traditional Holiday Italian Sweet Bread
Ingredients
2 1/2 T yeast




3 T sugar




3 c whole wheat flour




1/2 t salt




3/4 c warm nonfat or skim milk




5 T canola oil




3 egg whites




3/4 t vanilla




1/4 c raisins, mixed w/




3 T citron, 1/2 c broken walnuts and dusted lightly w/flour
Directions
Put all ingredients, except last two, in order in bread machine. Keep the raisins and citron in freezer until machine beeps to add to dough.

OR mix all ingredients, let rise 1 hour, knead, let rise till double, then bake in greased loaf pan for 30 minutes at 350 degrees F.

Number of Servings: 12

Recipe submitted by SparkPeople user TAZMOMSGOL.


Rate This Recipe
Member Ratings For This Recipe
THANKS, Vicki -- it even has WW flour! I've GOTTA' try this over the holidays...but...but I've never baked yeast recipes???

- 12/2/10

Reply from

TAZMOMSGOL

(12/4/10)

Oh you will love it!