Nutritional Info
Servings Per Recipe: 143
Amount Per Serving
Calories:

49.7
Total Fat:

0.6 g

Cholesterol:

7.8 mg

Sodium:

18.6 mg

Total Carbs:

10.4 g

Dietary Fiber:

0.5 g

Protein:

1.0 g
Report Inappropriate Recipe
Oatmeal Choc Chip Pumpkin Bread v5
Submitted by: MISTONTHEMOOR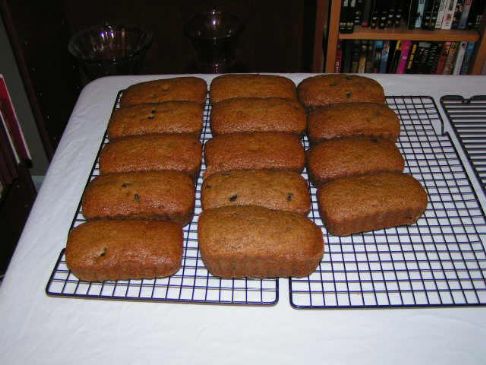 Introduction
This is not a health food, but it is reduced fat from the original recipe as I substituted applesauce for the shortening. I also upped the fiber content by using some whole wheat flour and adding oatmeal which makes this a little heartier and denser.

Oatmeal is a nice add when using fresh pumpkin which tends to be more watery than canned. I would not recommend adding oatmeal with canned pumpkin unless adding a lot of water or more applesauce.

You can make this recipe vegan by substituting ground flax + water for the eggs, but this will make the batter drier and may not work well with the whole wheat flour.
Calories shown are for 1 oz serving
223 g/ 8 oz for mini loaf - avg 658.4 cal
892 g/ 32 oz for reg loaf - avg 2633.6 cal
This is not a health food, but it is reduced fat from the original recipe as I substituted applesauce for the shortening. I also upped the fiber content by using some whole wheat flour and adding oatmeal which makes this a little heartier and denser.

Oatmeal is a nice add when using fresh pumpkin which tends to be more watery than canned. I would not recommend adding oatmeal with canned pumpkin unless adding a lot of water or more applesauce.

You can make this recipe vegan by substituting ground flax + water for the eggs, but this will make the batter drier and may not work well with the whole wheat flour.
Calories shown are for 1 oz serving
223 g/ 8 oz for mini loaf - avg 658.4 cal
892 g/ 32 oz for reg loaf - avg 2633.6 cal
Ingredients
Wet Ingredients




1 cup applesauce, unsweetened




4 cup granulated sugar




6 Lg Eggs





Pumpkin Mix




3 cups pureed pumpkin





Dry Ingredients




2 cups whole wheat flour




3 cups all purpose flour




1 cup Quick Oats Oatmeal




1 tsp Baking Powder




3 tsp Baking Soda




2 1/4 tsp Salt (optional)




1 tsp Cloves




2 tsp Cinnamon




1 tsp Pumpkin Pie Spice





2 cups Semi Sweet Chocolate Chips



Directions
143 ounces / Calories shown are per ounce

Preheat oven to 360 degrees.
Grease and flour 3 large bread loaf pans or 14 mini loaf pans. (I recommend you grease with Crisco butter flavored shortening rather than butter or spray).

In small bowl, combine all the spices, baking powder and baking soda. Mix well. In large bowl mix flours and oatmeal. Add spice mixture and mix well. Set aside.

Use electric mixer counter top or handheld for the following:
Mix together sugar and applesauce until fluffy. Beat in Eggs.

Mix in Pumpkin.

In 1/3 portions, add the dry ingredients (alternating with 1/3 c water if necessary) and continue to mix until all dry ingredients have been incorporated.

Optional: Mix in nuts, berries or chocolate chips before adding to pans.

Fill pans 1/3 to 1/2 full of batter.

Bake 35 min, then start checking for doneness. Top should be solid or slightly springy and a toothpick inserted into the middle should come out clean. Add more time in 5-10 minute increments as needed.

For an extra special treat after the loafs are completely cooled (or when you have frozen them) you can microwave them for a fresh from the oven experience. Try a bit of your favorite peanut butter spread on a small warmed up slice of this bread. Yumm!!



Great Stories from around the Web
Rate This Recipe