Nutritional Info
Servings Per Recipe: 6
Amount Per Serving
Calories:

152.1
Total Fat:

4.6 g

Cholesterol:

0.0 mg

Sodium:

566.7 mg

Total Carbs:

23.2 g

Dietary Fiber:

6.0 g

Protein:

12.0 g
Report Inappropriate Recipe
HG Super-Cheesy Crazy-EZ Shepherd's Pie
Submitted by: KEYLIME84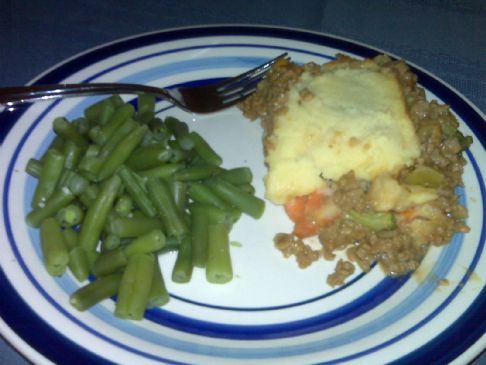 Introduction
http://www.hungry-girl.com/wee
k/weeklydetails.php?isid=2206
http://www.hungry-girl.com/wee
k/weeklydetails.php?isid=2206
Ingredients
One 24-oz. bag (about 6 cups) frozen Green Giant Family Size Broccoli, Carrots, Cauliflower & Cheese Sauce




1 pouch Betty Crocker Cheddar & Sour Cream Mashed Potatoes




2 cups frozen ground-beef-style soy crumbles (like the kind by Boca or Morningstar Farms)




Optional: salt, black pepper, additional spices



Directions
Preheat oven to 400 degrees.

Place contents of the veggies & sauce bag in a large microwave-safe bowl. Cover and microwave for 8 - 10 minutes, until mostly thawed.

Meanwhile, in a medium-large bowl, combine contents of potato pouch with 2 cups hot water, and stir until thickened. Set aside.

Spray an 8" X 8" baking pan with nonstick spray. Add soy crumbles to the pan and evenly distribute along the bottom. Evenly spoon saucy vegetables over the soy crumbles. Evenly top with potato mixture, using a spatula or spoon to smooth out the surface.

Bake in the oven for 20 minutes, until filling is hot and potato layer is slightly crispy.

Divide into sixths. If you like, season to taste with salt, pepper, and additional spices. Enjoy!

MAKES 6 SERVINGS

HG Alternative! If you can't locate Green Giant's Family Size bag of saucy veggies, use two of the Valley Fresh Steamers 12-oz. boxes or two of the standard 10-oz. boxes instead.

Number of Servings: 6

Recipe submitted by SparkPeople user KEYLIME84.


Great Stories from around the Web
Rate This Recipe