Nutritional Info
Servings Per Recipe: 9
Amount Per Serving
Calories:

74.4
Total Fat:

1.7 g

Cholesterol:

0.0 mg

Sodium:

175.0 mg

Total Carbs:

16.6 g

Dietary Fiber:

1.0 g

Protein:

1.8 g
Report Inappropriate Recipe
HG Funky Monkey Squares
Submitted by: KEYLIME84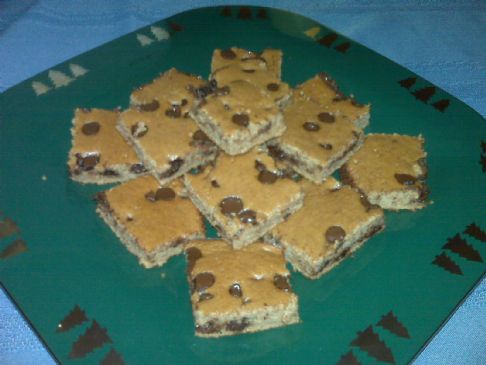 Ingredients
One 25-calorie packet diet hot cocoa mix




1 medium banana, mashed




1/4 cup (about 2) egg whites




1/3 cup whole-wheat flour




1/3 cup brown sugar (not packed)




3 tablespoons Splenda No Calorie Sweetener (granulated)




2 tablespoons light whipped butter or light buttery spread




1 tablespoon mini-semi sweet chocolate chips




1 teaspoon baking powder




1/2 teaspoon vanilla extract




1/4 teaspoon salt
Directions
Preheat oven to 325 degrees.

In a glass, add cocoa mix to 1/4 cup hot water. Stir until dissolved, then set aside.

In a medium mixing bowl, combine all remaining dry ingredients except for the mini chocolate chips (flour, brown sugar, Splenda, salt, and baking powder). Mix well and set aside.

Microwave butter in a small dish until melted, then set aside.

In a large mixing bowl, use a fork to lightly beat egg whites for 1 minute. Add melted butter, vanilla extract, and cocoa mixture, and mix thoroughly.

Slowly stir the dry ingredients into the wet ingredients in the large bowl. Mix in mashed banana.

Spray an 8-inch by 8-inch baking dish with nonstick spray. Pour batter into the dish and top evenly with mini chocolate chips.

Bake in the oven for 30 minutes, or until a toothpick inserted into the center comes out clean.

Let cool slightly, then cut into nine squares. Dig in!

MAKES 9 SERVINGS

PER SERVING (1 square): 73 calories, 1.5g fat, 153mg sodium, 13g carbs, 1g fiber, 7.5g sugars, 1.5g protein

Number of Servings: 9

Recipe submitted by SparkPeople user KEYLIME84.


Great Stories from around the Web
Rate This Recipe