Nutritional Info
Servings Per Recipe: 6
Amount Per Serving

Calories: 375.0
Total Fat:

15.5 g

Cholesterol:

210.8 mg

Sodium:

978.6 mg

Total Carbs:

24.2 g

Dietary Fiber:

1.5 g

Protein:

32.6 g
Report Inappropriate Recipe
Shrimp Pasta (adapted from Kraft recipe, shrimp-in-love)
Submitted by: PSYCOFREAK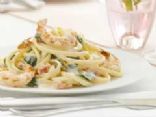 Introduction
Great for a quick weeknight dinner
Great for a quick weeknight dinner
Ingredients
8 oz Fettuccine pasta




2 cups cleaned medium fresh Shrimp (frozen ok)




1 cup (8oz) Philadelphia Neufchatel cream cheese




1 cup (8oz) Chicken Broth




5 oz Frozen Spinach, thawed




1 cup Parmesan cheese, grated




2 cloves garlic




salt & pepper to taste
Directions
COOK fettuccine as directed on package

MEANWHILE, heat large skillet or pat to medium-high heat.
Add cream cheese and chicken broth, cook stir 3 to 4 minutes until cream cheese is melted and mixture is blended well.
Add parmesan cheese, garlic and salt & pepper to taste.
Add shrimp and stir until cooked thru (if using frozen shrimp, until heated thru). Add spinach and stir well.
DRAIN pasta; place in a large bowl.
Stir in shrimp mixture.

ADD INS- Toss in 2 medium tomatoes for taste and color!


Number of Servings: 6

Recipe submitted by SparkPeople user PSYCOFREAK.


Rate This Recipe
Member Ratings For This Recipe
Quick & easy! My family enjoyed this, they didn't even realize it was a healthy version. I used a 14 oz can of chicken broth and broccoli instead of spinach. Sauce was kind of thick, next time I will use less parm cheese. The sauce will make a good base for other pasta dishes also.

- 3/14/09

Excellent! I altered it a bit... I sauteed garlic (a bit more than specified since we are garlic lovers), basil, sun dried tomatoes & 1/4 onion in a bit of oil from the sun dried tomatoes. I used less parmesan, low fat cream cheese, fat free chicken broth & Barilla Plus multigrain spaghetti. :-D

- 7/9/10

Oh my!! I started with sauté of garlic and fresh spinach in a bit of olive oil...a pinch of red pepper flakes, then added cream cheese, broth, parm followed by shrimp, then pasta. I think I only had about 1/2 cup parm and that seemed to be plenty. You can always garnish with a bit more. Great!

- 7/12/12

Our family loves "shrimp-in-love"! One's tongue just wraps around the pasta and shrimp and leads to savoring the fine Italian restaurant taste. I used fresh spinach. Found the sauce a bit heavy & added a bit more chicken broth.Simple to prepare! Hard to resist 2nd/3rd helpings! At-zuh-taliano!

- 5/26/11