Nutritional Info
Servings Per Recipe: 16
Amount Per Serving
Calories:

112.3
Total Fat:

4.8 g

Cholesterol:

11.4 mg

Sodium:

104.6 mg

Total Carbs:

16.0 g

Dietary Fiber:

1.5 g

Protein:

1.9 g
Report Inappropriate Recipe
Pie Crust
Submitted by: LAURAWNM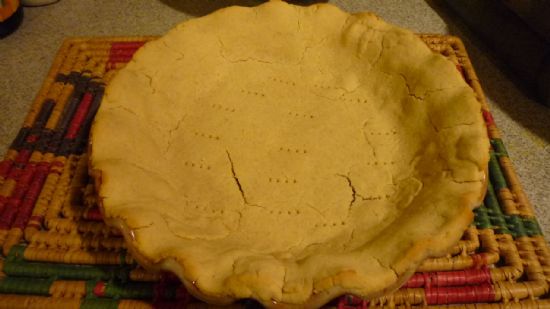 Introduction
Makes 2 crusts: One 10" and one 9" pie crust.
Makes 2 crusts: One 10" and one 9" pie crust.
Ingredients
1.25 cups Brown Rice Flour




1 cup Whole Wheat Flour *





1/2 tsp Salt




6 Tbsp Butter




1 Tbsp Honey




1/3 cup water (plus or minus)





*(may use 1/2 cup tapioca flour and another 1/2 cup brown rice flour instead)
Directions
Pre-heat oven to 400 degrees.

Place flours, salt, and butter in food processor and blend about 1-2 minutes.
Add honey and slowly add water until dough sticks together, but is not sticky.

On waxed paper, roll out enough for the 10" pie crust. Spray pie plate with cooking spray, or lightly oil and flour it. Invert paper with crust over pie plate and carefully place in plate.

Do the same for the 9" pie crust.

Prick with a fork in various places, then bake 10 minutes. Remove and let cool before using.

Number of Servings: 16

Recipe submitted by SparkPeople user LAURAWNM.


Great Stories from around the Web
Rate This Recipe