Nutritional Info
Servings Per Recipe: 8
Amount Per Serving
Calories:

133.2
Total Fat:

0.6 g

Cholesterol:

0.2 mg

Sodium:

296.8 mg

Total Carbs:

31.9 g

Dietary Fiber:

3.7 g

Protein:

4.8 g
Report Inappropriate Recipe
HG Top Banana Bread
Submitted by: KEYLIME84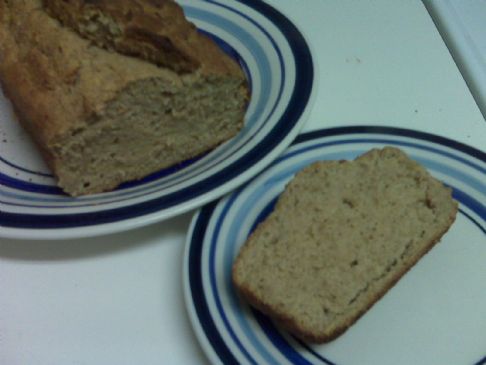 Introduction
http://www.hungry-girl.com/newsletters/raw
/947
http://www.hungry-girl.com/newsletters/raw
/947
Ingredients
1 1/4 cups whole-wheat flour




1/4 cup all-purpose flour




3/4 cup Splenda No Calorie Sweetener (granulated)




1 1/2 cups mashed ripe bananas (about 3 bananas)




1/2 cup fat-free liquid egg substitute (like Egg Beaters)




1/2 cup no-sugar-added applesauce




2 tsp. baking powder




1 tsp. vanilla extract




1/2 tsp. cinnamon




1/2 tsp. salt




Optional Toppings: no-calorie spray butter, Cool Whip Free
Directions
Preheat oven to 350 degrees. In a large bowl, combine both types of flour, Splenda, baking powder, salt, and cinnamon (in other words, all dry ingredients). In a separate bowl, mix together the mashed bananas, egg substitute, applesauce, and vanilla extract (all the wet ingredients). Add this mixture to the bowl with the dry ingredients, and stir until just blended. Spoon batter into a large loaf pan (about 9" X 5") sprayed with nonstick spray. Bake for about 50 minutes, or until a knife inserted in the middle comes out clean. Allow to cool slightly, and then cut into 8 slices. If you like, spritz with some spray butter or spread on some Cool Whip Free. MAKES 8 SERVINGS


Serving Size: 1 (thick!) slice
Calories: 140
Fat: 0.5g
Sodium: 267mg
Carbs: 31g
Fiber: 3.75g
Sugars: 7g
Protein: 5g

POINTS value 2

Number of Servings: 8

Recipe submitted by SparkPeople user KEYLIME84.


Great Stories from around the Web
Rate This Recipe