Nutritional Info
Servings Per Recipe: 1
Amount Per Serving
Calories:

249.3
Total Fat:

12.9 g

Cholesterol:

35.0 mg

Sodium:

888.8 mg

Total Carbs:

30.2 g

Dietary Fiber:

15.4 g

Protein:

18.2 g
Report Inappropriate Recipe
HG Special Pizza
Submitted by: KEYLIME84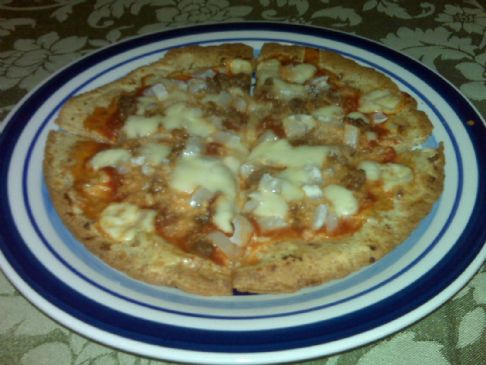 Introduction
http://www.hungry-girl.com/wei
ghin/show/1871
http://www.hungry-girl.com/wei
ghin/show/1871
Ingredients
1 La Tortilla Factory Smart & Delicious Low Carb High Fiber Large Tortilla




1 wedge The Laughing Cow Light Original Swiss cheese




1/4 cup Amy's Organic Chunky Tomato Bisque




1/4 cup frozen ground-beef-style soy crumbles (like the kind by Boca or Morningstar Farms), thawed




3 tbsp. chopped red onion




1/2 tbsp. reduced-fat Parmesan-style grated topping




1/4 tsp. garlic powder




1 piece Mini Babybel Light cheese, chopped
Directions
Preheat oven to 375 degrees.

Place tortilla on a baking sheet sprayed with nonstick spray. Bake in the oven until slightly crispy, about 5 minutes.

Remove sheet from the oven and carefully flip tortilla. Once cool enough to handle, evenly spread cheese wedge over the tortilla, leaving a 1/2-inch border around the edge. Cover cheese with the bisque.

Evenly top the saucy layer with soy crumbles and onion. Sprinkle with garlic powder and Parm-style topping, and then evenly top with chopped cheese.

Bake in the oven until cheese has melted and tortilla is crispy, about 5 minutes. Cut into slices and eat!

MAKES 1 SERVING

PER SERVING (entire recipe): 254 calories, 9.5g fat, 1,009mg sodium, 31.5g carbs, 14g fiber, 7g sugars, 22.5g protein -- PointsPlus value 7

Number of Servings: 1

Recipe submitted by SparkPeople user KEYLIME84.


Great Stories from around the Web
Rate This Recipe