Nutritional Info
Servings Per Recipe: 1
Amount Per Serving
Calories:

280.6
Total Fat:

6.8 g

Cholesterol:

54.9 mg

Sodium:

774.1 mg

Total Carbs:

27.5 g

Dietary Fiber:

1.8 g

Protein:

23.9 g
Report Inappropriate Recipe
Patty's Breakfast Bowl
Submitted by: IACCEPTMYSELF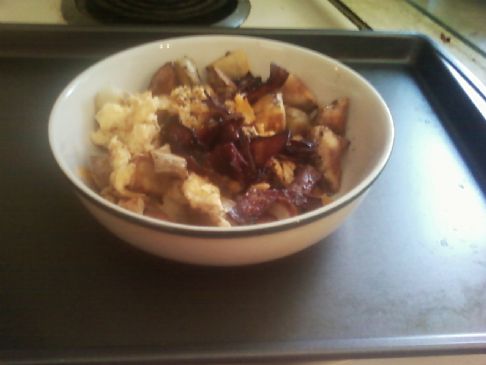 Introduction
Like Jimmy Dean, but lighter ingredients.

COOKING AND PREP TIMES ARE GUESSTIIMATES

I make up a bunch of these bowls and freeze them for quick breakfasts.

One carton of egg substitute makes 8 bowls.
One pound of bacon makes ~ 5 bowls
One large baking potato makes ~ 2 bowls

Like Jimmy Dean, but lighter ingredients.

COOKING AND PREP TIMES ARE GUESSTIIMATES

I make up a bunch of these bowls and freeze them for quick breakfasts.

One carton of egg substitute makes 8 bowls.
One pound of bacon makes ~ 5 bowls
One large baking potato makes ~ 2 bowls

Ingredients
1/4 cup egg substitute




4 strips of turkey bacon




1 cup baked potatoes, cut into cubes




1/2 oz. Cheddar cheese as a topper
SparkPeople Sponsored Video
Directions
COOKING AND PREP TIMES ARE GUESSTIIMATES

Cut potatoes into cubes. Bake in a 350 degree oven for 1 hour.

While that's baking, fry up turkey bacon.

After those two are done, fry up the egg substitute

Put it all together in a bowl and sprinkle with cheese.

Number of Servings: 1

Recipe submitted by SparkPeople user IACCEPTMYSELF.


Great Stories from around the Web
Rate This Recipe