Nutritional Info
Servings Per Recipe: 4
Amount Per Serving
Calories:

133.7
Total Fat:

4.0 g

Cholesterol:

0.0 mg

Sodium:

31.1 mg

Total Carbs:

17.6 g

Dietary Fiber:

2.7 g

Protein:

1.8 g
Report Inappropriate Recipe
Chinese-style sweet and sour Sauce
Submitted by: DENMORWR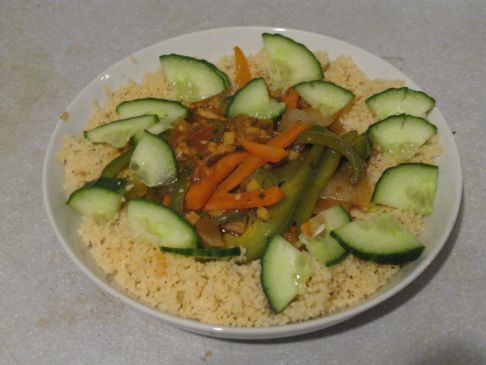 Introduction
A quickie sauce that goes well with raw veg as a dip, over couscous,or rice
A quickie sauce that goes well with raw veg as a dip, over couscous,or rice
Ingredients
Carrots, raw, 1 cup, chopped (remove)




Green Peppers (bell peppers), 1 cup, strips (remove)




*Corn Oil, 1 cup, strips (remove)




*Canola Oil, 1 tbsp (remove)




Onions, raw, 1 cup, chopped (remove)




Garlic, 1 clove (remove)




Ginger Root, 5 slices (1" dia) (remove)




Cornflour (UK), 20 g (remove)




*Oxo Vegetable Stock Cubes, 1 serving (remove)




*asda tomato puree, 1 tbsp (remove)




*dark brown soft sugar, 15 gram(s) (remove)




*Regina Fine White Wine Vinegar, 2 tbsp (remove)




Sherry, dry, 1 fl. oz (remove)




Cucumber (with peel), 0.5 cup slices (remove)




Couscous( see photo)




...or rice,veg dips
Directions
Peel and cut the carrot into thin, small strips. Ditto the pepper.
Heat the oil,and fry the onions and garlic until soft. Add the carrot, pepper,and ginger and 'stir-fry' for two minutes.
Blend the cornflour and stock and add to the vegetables .Add the rest of the ingredients.
Stir until boiling,then moderate to a simmer for 2/3 minutes.Season if desired,and garnish with cucumber.
Can be served with chicken strips or stir-fried pork.

Number of Servings: 4

Recipe submitted by SparkPeople user DENMORWR.


Great Stories from around the Web
Rate This Recipe