Nutritional Info
Servings Per Recipe: 8
Amount Per Serving
Calories:

155.2
Total Fat:

2.1 g

Cholesterol:

58.4 mg

Sodium:

49.0 mg

Total Carbs:

27.6 g

Dietary Fiber:

4.8 g

Protein:

8.4 g
Report Inappropriate Recipe
Chicken Noodle homemade soup
Submitted by: MKOREANPRINCESS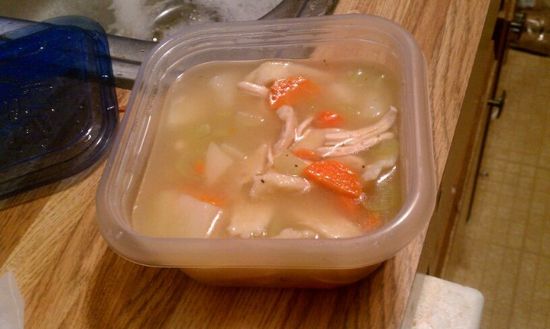 Introduction
Yummy homemade chicken noodle soup.
Yummy homemade chicken noodle soup.
Ingredients
SOUP:




1 chicken breast




4 carrots, sliced




3 potatoes




1 tbsp. sage




1 tsp. dry mustard




1 tsp. celery salt




1 tsp. salt




1 tsp. pepper




1/2 tsp. seasoning salt




NOODLES:




2 beaten eggs




1 tbsp. milk




1 tsp. salt




2 c. flour
Directions
Put chicken and all seasonings in a large pot and boil until chicken starts to fall off bones. Take chicken out of pot and take meat off bones. Put meat back into pot. Bring to a boil. Add carrots and potatoes. Cook about 2 hours or until potatoes and carrots are soft. While soup is cooking, make noodles. When carrots and potatoes are soft, add noodles.
TO MAKE NOODLES: Combine eggs, milk and salt. Stir in enough of the flour to make a stiff dough. Cover. Let rest for 10 minutes. On floured surface, roll dough into a 16x12 inch rectangle. Let stand 20 minutes.

Roll up loosely and cut into 1/4 inch slices. Unroll and cut into desired lengths. Spread out and let dry for 2 hours. Drop into soup and cook uncovered 10 to 12 minutes or until done. Can be stored in airtight container until ready to use.

Number of Servings: 8

Recipe submitted by SparkPeople user MKOREANPRINCESS.


Great Stories from around the Web
Rate This Recipe