Couscous and Chicken Feta stuffed Red Peppers
Nutritional Info
Servings Per Recipe: 4
Amount Per Serving
Calories:

384.9
Total Fat:

4.6 g

Cholesterol:

17.9 mg

Sodium:

1,189.0 mg

Total Carbs:

65.1 g

Dietary Fiber:

10.7 g

Protein:

24.9 g
Report Inappropriate Recipe
Submitted by: GVMEMOMENT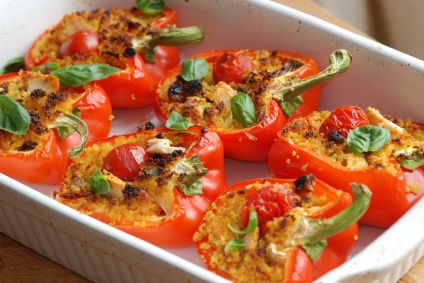 Ingredients
Vegetable-oil cooking spray




1.25 cups fat-free chicken or vegetable broth




2/3 cup couscous




1 Chicken Breast cut into small pieces




4 red bell peppers




2 tsp olive oil




1/2 cup chopped onion




1 med zucchini, quartered lengthwise then sliced across thinly




1/2 tsp dried oregano




1/2 tsp salt




1 cup cherry tomatoes, cut in half




15 oz canned chickpeas, drained and rinsed




2 oz crumbled fat free feta cheese (about 1/2 cup)




1/4 cup tomato paste
Directions
Preheat oven to 350°F F. Coat a small baking dish with cooking spray. Bring the broth to a boil in a saucepan, add the couscous, cover the pan and remove it from the heat. Cut the stems and top half inch off the bell peppers and scoop out the seeds and membranes. Place peppers upright in a baking dish and roast them for 15 minutes or so, until they soften, then remove them from the oven until the filling is ready. Heat oil in a nonstick skillet. brown chicken untill cooked through. Add onion, zucchini, yellow squash, fennel seeds, oregano, and salt. Cook, stirring frequently, for 5 minutes or until vegetables are softened. Remove from heat and stir in the tomatoes, chickpeas and tomato paste. Using a fork, scrape the couscous into the skillet and toss with the vegetables. Stir in the crumbled feta. Fill peppers with the couscous mixture. Bake 15 minutes. Serve immediately.


Number of Servings: 4

Recipe submitted by SparkPeople user GVMEMOMENT.


Great Stories from around the Web
Rate This Recipe
Member Ratings For This Recipe