Nutritional Info
Servings Per Recipe: 2
Amount Per Serving
Calories:

514.9
Total Fat:

11.7 g

Cholesterol:

345.8 mg

Sodium:

463.4 mg

Total Carbs:

50.7 g

Dietary Fiber:

7.9 g

Protein:

48.6 g
Report Inappropriate Recipe
Whole Wheat Linguine with Shrimp in a Spicy Red Tomato Sauce
Submitted by: COPPERHEAD71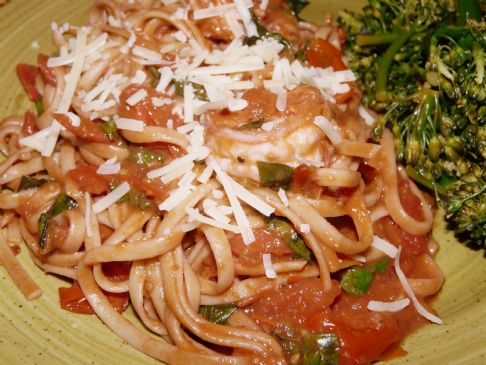 Introduction
For a video demonstration of this recipe and many more great recipes, "like" Colleen's Kitchen on Facebook!
http://www.facebo
ok.com/pages/Colleens-Kitc
hen/194454567232252
For a video demonstration of this recipe and many more great recipes, "like" Colleen's Kitchen on Facebook!
http://www.facebo
ok.com/pages/Colleens-Kitc
hen/194454567232252
Ingredients
4 oz. whole wheat linguine, cooked according to package directions




1 tbsp extra virgin olive oil




2 clove garlic, minced




6 oz. raw large shrimp, peeled and deveined




1 cup cherry tomatoes, halved




1/2 cup red wine




1/2 cup crushed tomatoes




pinch of coarse sea salt




1/4 tsp red chili pepper flakes




10 leaves fresh basil, roughly chopped




pinch of shredded parmesan cheese (optional)
Directions
Cook the linguine according to package directions.

Heat the olive oil in a saute pan over medium heat. Add the garlic and cook until lightly browned. Add the shrimp and cook for about 1-2 minutes per side, until just pink and starting to curl up. Remove the shrimp from the pan and set aside.

Add the cherry tomatoes to the pan and cook until slightly soft. Add the wine, crushed tomatoes, pinch of salt, and red chili pepper flakes. Use the back of a wooden spoon to crush the cherry tomatoes down and release the juices. Continue to cook until the liquid reduces down by almost half.

Add the shrimp and cook for about 1-2 minutes more to let the shrimp absorb the flavor of the sauce. Don't overcook or the shrimp get rubbery.

Remove from heat and toss the shrimp and sauce with the pasta. Add the basil and combine well.

Optional: Serve topped with a sprinkling of shredded parmesan cheese.

Number of Servings: 2

Recipe submitted by SparkPeople user COPPERHEAD71.


Great Stories from around the Web
Rate This Recipe