Nutritional Info
Servings Per Recipe: 3
Amount Per Serving

Calories: 108.9
Total Fat:

3.6 g

Cholesterol:

3.6 mg

Sodium:

338.2 mg

Total Carbs:

16.2 g

Dietary Fiber:

1.4 g

Protein:

4.5 g
Report Inappropriate Recipe
Bacon Pancake Bites
Submitted by: JSKASICK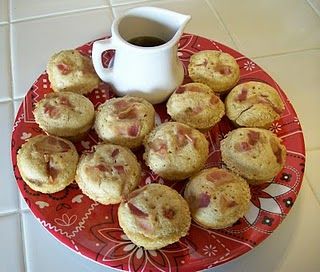 Introduction
theworldaccordingtoeggface.blo
gspot.com
theworldaccordingtoeggface.blo
gspot.com
Ingredients
1/2 cup Multigrain Pancake Mix, dry




1/3 cup Soy Milk (any milk would do)




1/4 cup Torani Sugar Free Caramel Syrup




2 slices Cooked Bacon
Directions
Mix pancake mix, milk, syrup together till thoroughly combined. Pour batter into a 12 cup mini muffin tin that has been sprayed with Pam. Fill about 3/4 way up.

Top each muffin with a few snips (kitchen shears work great for this) of bacon. Make bacon the day before for breakfast and save two pieces back or you could use a couple of those pre-cooked slices or real bacon bits would work too. Bake at 350 for 12-14 minutes or until golden.

Serve with SF Maple syrup for dipping.

Serving Size: Makes 12 mini bites

Number of Servings: 3

Recipe submitted by SparkPeople user JSKASICK.


Rate This Recipe