Nutritional Info
Servings Per Recipe: 1
Amount Per Serving
Calories:

274.2
Total Fat:

6.1 g

Cholesterol:

10.0 mg

Sodium:

1,713.1 mg

Total Carbs:

31.3 g

Dietary Fiber:

10.3 g

Protein:

29.3 g
Report Inappropriate Recipe
HG Great Greek Pizza
Submitted by: KEYLIME84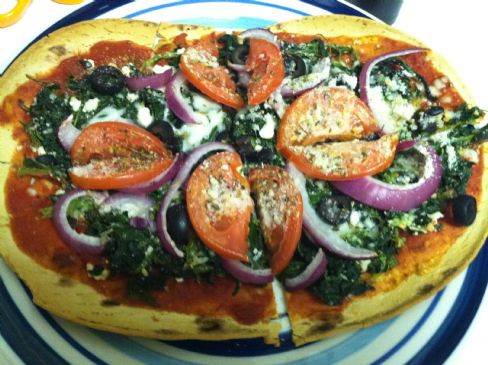 Introduction
300 Under 300, page 268
300 Under 300, page 268
Ingredients
1/2 cup chopped spinach, thawed from frozen, squeezed dry




2 tablespoons crumbled fat-free feta




1/2 teaspoon crushed garlic




1 stick light string cheese




1 whole-wheat or high-fiber pita




3 tablespoons canned crushed tomatoes




2 thin slices red onion, rings separated and halved




1 tablespoon sliced black olives




4 slices plum tomato




Dash dried oregano or 1/4 teaspoon fresh oregano




Optional: salt and black pepper
Directions
Preheat oven to 375 degrees.

In a medium bowl, combine spinach, feta cheese, and garlic. Mix well and set aside.

Break string cheese into thirds and place in a blender or food processor--blend at high speed until cheese takes on a shredded or grated consistency. (Or just tear string cheese into pieces and roughly chop.) Set aside.

Spray a baking sheet with nonstick spray, and lay pita in center. Spread crushed tomatoes over the pita, leaving 1/2-inch border around the edge. Evenly top with spinach-feta mixture, and then cover with shredded/grated sting cheese.

Place onion, olive, and tomato slices on top of your "pizza", and sprinkle with oregano.

Bake in the oven for 8 to 10 minutes, until pizza is hot and string cheese has melted.

If you like, season to taste with salt and pepper. Cut into wedges, and enjoy!

Per serving (entire recipe): 277 calories, 4.75g fat, 990mg sodium, 38g carbs, 8.5g fiber, 4.5g sugars, 19g protein

Serving Size: Makes 1 serving

Number of Servings: 1

Recipe submitted by SparkPeople user KEYLIME84.


Great Stories from around the Web
Rate This Recipe