Nutritional Info
Servings Per Recipe: 4
Amount Per Serving
Calories:

179.1
Total Fat:

10.4 g

Cholesterol:

79.4 mg

Sodium:

298.2 mg

Total Carbs:

5.0 g

Dietary Fiber:

2.4 g

Protein:

16.8 g
Report Inappropriate Recipe
You Won't Believe It's Cauliflower Pizza Crust
Submitted by: PLATSUZIE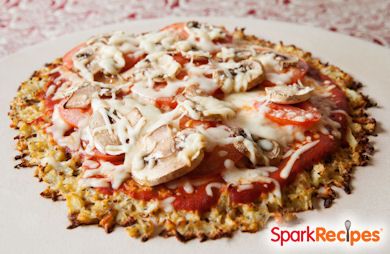 Introduction
This delicious and easy gluten-free recipe can be frozen until you're ready to eat it.
This delicious and easy gluten-free recipe can be frozen until you're ready to eat it.
Ingredients
1 cup raw, grated (or chopped in food processor) cauliflower*




1 egg




1 cup mozzarella cheese




1 tsp oregano




2 tsp parsley




(may add other Italian spices as desired--such as dried or fresh basil)
Directions
Makes 4, 1-slice servings. Can be doubled for a larger pizza

Preheat oven to 450 degrees.

Spray a cookie sheet with non-stick spray or use parchment paper. (Optional: Use coconut oil and sprinkle with Parmesan cheese before laying dough onto baking surface. Increases calories but I like health benefits of coconut oil. Some in this forum may not appreciate using this oil.)

In a medium bowl, combine cauliflower, egg, mozzarella and all desired spices. Press evenly on baking pan or pizza stone.

Bake at 450 degrees for 12-15 minutes (up to 20 minutes if you double the recipe). You may turn over once if desired.

Remove the pan from the oven. To the crust, add sauce, then toppings and cheese. (Get creative and top with chopped apples and cheese or your own combinations of whatever you like on a pizza. Some examples to choose from are jack cheese, onion, fresh or dried tomatoes, artichokes, shredded/cooked chicken, turkey pepperoni, pineapple, mushrooms, marinara sauce, bell peppers, whatever peppers you like, fresh mushrooms, fresh basil...your imagination is the limit.)

Place under broiler, on high heat, until cheese is melted.

Reheats nicely and can still be held in the hand, even the next day. (If you don't press "dough" too thin, make small rounds and add enough egg to hold together.)

Pizza crusts can be frozen after the initial baking and used later.

*If using frozen cauliflower, prepare according to package directions. After cooked and slightly cooled, shred cauliflower with a cheese grater, (or grater blade on food processor) and then measure for the recipe. (An "unpacked/loose" cup.) Be sure to drain WELL.

Guestimate~Approximately 2 1/4 cups of 1" cauliflower would grate into one cup of grated (or riced) cauliflower.

For lower calories, substitute two egg whites for whole egg and low or no fat mozzarella cheese.

Don't spread this too thin or it will fall apart; if it's too thick, it's doughy in the middle.

Please share your personal experience. (1.Did you use fresh or frozen califlower? 2. Or try both? 3. What size did you make the pizza? 4.How long did you cook? 5. How thick did you make the "dough"? 6. Was the texture smooth or lumpy? 7. Did you add extra egg or find you didn't need to? 8. Were you able to hold in your hand or too soft to do so?) Any one of the aforementioned, by number or just anything "helpful" to others.

Best results are found using fresh cauliflower and not baking first. Experiment and post your results. (Was this true for you?)


Great Stories from around the Web
Rate This Recipe
Member Ratings For This Recipe
This is fabulous! I weighed the 1 cup of mozzarella on my digital scale, and it was only 3.15 oz. The recipe assumes that 1 cup is the standard 8 oz. So really much less fat (and calories) than stated in the calculations. Thanks for this great recipe!

- 2/4/12

Reply from

PLATSUZIE

(6/13/13)

Ounces being used for volume and weight isn't the best situation. Many of us use scales to weigh food. I intended, as you state, one cup of mozzarella. Sparker's appreciate your clarification, thanks Caresings. Current fat and calories calculation is based on 2 weight ounces per SERVING way too high

AWESOME!!!!! I use frozen cauliflower...don't cook it just let it thaw, chop with a veggie chopper, squeeze out water, then continue from there.... very, very good!!

- 9/11/11

Reply from

PLATSUZIE

(6/10/13)

Maybe I should change "using frozen cauliflower" directions. Cooking first may be producing a too moist (unsatisfactory) crust. Thanks for posting your experience, BGKOZDRAS.

Love this recipe, this might be my new bread, tortilla, crust, etc. It takes some working, playing, experimenting but really, this is fabulous! My greatest "miss" since eating Grok was pizza (I know, what an American, huh!?) and now, I'm satisfied! Make sure the pan has sides!

- 3/18/12

The perfect name for the perfect gluten-free pizza crust! I made mine in a twelve inch cast iron skillet, cooked the crust a bit longer and flipped it once. The crust was crispy and yummy!

- 9/30/12

Reply from

PLATSUZIE

(6/10/13)

Cooking longer, (maybe lower heat, as another comment suggested) using cast iron skillet and flipping are great tips for achieving crisper crust. Thanks for posting and sharing your experience and enjoyment of "the perfect name for a perfect GF crust", hmitf!

This is so good - even without adding any toppings. The first time I tried it I did make it too thin. Then, I doubled the recipe and made 6 small crusts - measured each to 1/2 c, then formed them into a ball, pressed them into shape on the cookie sheet; much easier to handle and did not fall apart

- 6/10/12

Reply from

PLATSUZIE

(6/10/13)

Do you use fresh or frozen cauliflower? Do you cook frozen or just defrost and drain? Great idea to make individual English muffin sized pizzas! Thank you for sharing VEEGEE!

Mine didnt turn out so pretty, but it tasted great! Unfortunately, the store was sold out of white cauliflower so I ended up using purple cauliflower-I never knew such a thing existed! Lol, Heres some pictures of my my purple pizza! :)

Before:tinypic.com/r/2lxh1f7

/6 After:tinypic.com/r/2td1w/6

- 7/26/12

Amazing!! A definite regular in our menu. Used fresh cauliflower and drained most moisture from veggie cheese mixture. Pressed thin, baked 20 mins, added toppings & broiled. Crust was soft but delicious! Next time I will try to drain more moisture for crispier crust :) A fav for sure!

- 8/10/11

SO GOOD---I put a ton of cheese on it, thinking it would hold it together better---parmesan cheese does...but I want to try less cheese next time--->less calories! But the flavor was AWESOME..and once cooled, held together very well! A baking stone is the way to go.

- 11/22/11

Reply from

PLATSUZIE

(6/10/13)

Use of a baking stone and cooling to achieve a better bound crust...both appreciated ideas. Thank you WBS9! Did you use fresh or frozen, raw or pre-cooked cauliflower?