Nutritional Info
Servings Per Recipe: 4
Amount Per Serving

Calories: 178.6
Total Fat:

10.5 g

Cholesterol:

79.1 mg

Sodium:

297.9 mg

Total Carbs:

4.9 g

Dietary Fiber:

2.4 g

Protein:

16.8 g
Report Inappropriate Recipe
You Won't Believe it's Cauliflower Pizza Crust
Submitted by: PLATSUZIE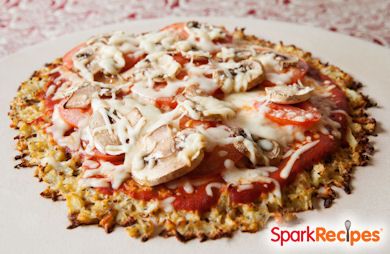 Introduction
Delicious and easy (Gluten Free too)
Can be made then frozen until ready to eat
Can be held in your hand--It is Pizza Crust you know
May make into "breadstick" shape rather than pizza crust shape
Delicious and easy (Gluten Free too)
Can be made then frozen until ready to eat
Can be held in your hand--It is Pizza Crust you know
May make into "breadstick" shape rather than pizza crust shape
Ingredients
1 cup raw, grated (or chopped in food processor) cauliflower*




1 egg




1 cup mozzarella cheese




1 tsp oregano




2 tsp parsley




(may add other italian spices as desired-such as dried or fresh basil)
Directions
Makes 4, 1-slice servings. Can be doubled for a larger pizza

Preheat oven to 450 degrees.

Spray a cookie sheet with non-stick spray or use parchment paper. (optional-use coconut oil and sprinkle with parmasean cheese before laying dough onto baking surface. Increases calories but I like health benefits of coconut oil. Some, in this forum, may not appreciate using this oil.)

In a medium bowl, combine cauliflower, egg, mozzarella and all desired spices. Press evenly on baking pan or pizza stone.

Bake at 450 degrees for 12-15 minutes (up to 20 minutes if you double the recipe). You may turn over once if desired.

Remove the pan from the oven. To the crust, add sauce, then toppings and cheese. (Get creative and top with chopped apples and cheese or your own combinations of whatever you like on a pizza. Some examples to choose from are jack cheese, onion, fresh or dried tomatoes, artichokes, shredded/cooked chicken, turkey pepperoni, pineapple, mushrooms, marinara sauce, bell peppers, whatever peppers you like, fresh mushrooms, fresh basil...your imagination is the limit.)

Place under broiler, on high heat, until cheese is melted.

Reheats nicely and can still be held in the hand, even the next day. (If you don't press "dough" too thin, make small rounds and add enough egg to hold together.)

Pizza crusts can be frozen after the initial baking and used later.

*If using frozen cauliflower, prepare according to package directions. After cooked and slightly cooled, shred cauliflower with a cheese grater, (or grater blade on food processor) and then measure for the recipe. (An "unpacked/loose" cup.) Be sure to drain WELL.

Guestimate~Approximately two and a quarter cups of 1" cauliflower would grate into one cup of grated (or riced) cauliflower.

For lower calories substitute two egg whites for whole egg and low or no fat mozzarella cheese.

Don't spread too thin or it will fall apart, too thick and it's doughy in the middle.

addendum-please share your personal experience. (1.Did you use fresh or frozen califlower? 2. Or try both? 3. What size did you make the pizza? 4.How long did you cook? 5. How thick did you make the "dough"? 6. Was the texture smooth or lumpy? 7. Did you add extra egg or find you didn't need to? 8. Were you able to hold in your hand or too soft to do so?) Any one of the aforementioned, by number or just anything "helpful" to others.

Best results are found using fresh cauliflower and not baking first. Experiment and post your results. (Was this true for you?)





Number of Servings: 4

Recipe submitted by SparkPeople user PLATSUZIE.


Rate This Recipe
Member Ratings For This Recipe
Love this recipe, this might be my new bread, tortilla, crust, etc. It takes some working, playing, experimenting but really, this is fabulous! My greatest "miss" since eating Grok was pizza (I know, what an American, huh!?) and now, I'm satisfied! Make sure the pan has sides!

- 3/18/12

This is so good - even without adding any toppings. The first time I tried it I did make it too thin. Then, I doubled the recipe and made 6 small crusts - measured each to 1/2 c, then formed them into a ball, pressed them into shape on the cookie sheet; much easier to handle and did not fall apart

- 6/10/12

Mine didnt turn out so pretty, but it tasted great! Unfortunately, the store was sold out of white cauliflower so I ended up using purple cauliflower-I never knew such a thing existed! Lol, Heres some pictures of my my purple pizza! :)

Before:tinypic.com/r/2lxh1f7

/6 After:tinypic.com/r/2td1w/6

- 7/26/12

Amazing!! A definite regular in our menu. Used fresh cauliflower and drained most moisture from veggie cheese mixture. Pressed thin, baked 20 mins, added toppings & broiled. Crust was soft but delicious! Next time I will try to drain more moisture for crispier crust :) A fav for sure!

- 8/10/11

Very tasty. Doubled recipe, grated in some garlic, cooked on my perforated pizza pan-- definitely hold in your hand sturdy, and my 7 year old who is philosophically opposed to vegetables loved it. I will experiment to see if I can swing a higher ratio of vegetables to cheese.

- 1/28/12

SO GOOD---I put a ton of cheese on it, thinking it would hold it together better---parmesan cheese does...but I want to try less cheese next time--->less calories! But the flavor was AWESOME..and once cooled, held together very well! A baking stone is the way to go.

- 11/22/11

Wonderful! I put about 2c fresh florets in a mini chopper to get 1c grated. Used part skim mozz & about 1T Italian seasoning. I lined a 9" Pyrex pie pan with parchment & cooked @ 450 for 20 min. Crust about 1/2" thick. Not crunchy but solid enough to hold. This will be a great on-the-go breakfast!

- 1/13/13

Excellent! I used fresh cauliflower that I chopped fine before microwaving.Used egg beaters instead of the egg. Spritzed the parchment paper with olive oil and sprinkled with parm. After crust was cooked and topped I baked instead of broiled until cheese was melted. DH gave it 2 thumbs up!

- 3/8/13

Made this tonight because Hibby and I are doing a low glycemic diet. This was amazing!!!!!!!! Thank you for sharing!! I topped it with spinach, sundries tomatoes, cooked chicken, artichoke hearts and a little mozzarella and shredded Parmesan cheese. No sauce and it was great!!!!!!

- 3/3/12

I made a similar recipe from another member. Theirs said to cook the cauliflower first - I think it would have been crispier without cooking. Pressing the water out is essential if you do cook it first. Mine was crispy on the bottom but crumbly in the middle. Still great and allows liberal topping

- 1/31/13

Really good! We used fresh cauliflower! The pizza didn't fill our pizza tray, but I will probably double the recipe next time. The dough was just right, not too thick and pretty smooth. We were mostly able to hold the pieces, but I cut some of mine up too! Thanks for the recipe!

- 1/6/13

Very pleased with this recipe! I used fresh, chopped in the food processor. One head was 4 cups so I winged it with the eggs, used 3 and about one cup of cheese. Spread evenly on two cookie sheets lined with parchment there was enough for 4. The texture is different but flavorful and healthier!

- 1/6/13

Good flavor and remarkable texture.Needed longer baking time because it was too moist.Would bake directly on cast iron and flip.Calculated the recipe with my toppings (tomato sauce,more cheese and turkey pepperoni) and calorie-wise was lower because the cheese is more accurately measured by weight.

- 10/19/12

This is freakin' delicious!! I was kind of iffy because of the cauliflower (not a fan) but it tasted exactly like the pizzas we've made from the box. The crust ended being up too soft to hold (something I did or didn't do, I guess) but it tasted great anyway! Will definitely be making it again!

- 10/18/12

doubled the recipe, added fresh garlic baked on parchment. Ate some right away and put the rest in the fridge. Part in fridge was not as firm after being warmed. No worries Cut it in rectangles, fill with sauce and cheese roll up jelly roll style top with more sauce and cheese and bake. Manicotti!

- 9/25/12

I loved this. Made it with fresh cauliflower. Texture was soft, taste was not. Eaten by itself it reminds me of Greek Saganaki. I had to do a makeover because the cal and fat were to high. When I subsituted the mozz with the low fat mozz I used cal and fat went way down.

- 9/19/12

Delicious! Thanks so much for sharing.Made a hawaiian pizza and my husband and son could not believe it was cauliflower.My hubby doesnt like cauliflower so he was pleasantly surprised by the great taste.We started Insanity a couple weeks ago & he was missing Pizza and this took care of his craving!

- 8/21/12

I really like this & will definitely make again. Crust stuck, so may try olive oil instead of non-stick spray next time. DH & 11yo asked to try it -- and liked it!! (They had no idea it was made w/ cauliflower.) I only got 1/4 of the pizza & they ate the rest!! Really satisfies any pizza cravings.

- 8/14/12

This came out very well, and I was able to hold it in my hand. It has the texture of flatbread.I used egg whites and Mrs. Dash Italian Seasoning... The egg ran a little bit during baking, but I plan to use a round pan next time. I baked this on parchment paper then transferred to a square foil pan.

- 7/30/12

Passes the picky eater test. My husband declared it "the best pizza you ever made", Boy #1 ate half a piece and Boy #2 had 3 helpings. I am declaring victory! I will definitely make this again. The hardest part was chopping the cauliflower. It was wet, so I blotted it w/paper towels before baking

- 7/1/12

Flavor was good, but it didn't work very well as pizza crust. Maybe if I were still low carbing and desperate for pizza I'd like it more, but it honestly didn't do much for me. I followed directions exactly but couldn't hold it in my hand. High fat yet didn't satisfy. I'd rather just make WW crust.

- 2/25/12

This was my first attempt at anything like this so I will say that it was very tasty for my efforts. I used 1 whole head (about 6 cups grated) which made 2 pizzas. I made one on a pizza stone and one on a cornmeal dusted cookie sheet. Both worked well. Needs to be cool to eat with your hands though.

- 2/8/12

I made this last night and it was AMAZING! My husband kept saying, "I will NOT eat that." Later, he stuffed two pieces in his mouth one right after the other and said, "I've had worse." and smiled. If he will eat it, it's ok!! I used a head which made 6 cups - x ingred. by 6 and made 2 lg stones.

- 1/14/12

I will make this again with a few tweaks. I made it with frozen cauliflower and mashed it with a potato masher. I used vegan cheese and egg beaters. Fresh made, this was more like a very tasty casserole. Left overs were more pizza like so I'll make the crust the night before or enjoy a casserole

- 5/18/11

I'm playing with this recipe as I write. The first crust was too wet to get on to a plate, but was eaten off of the cookie sheet to the last shred of cauliflower. I'm waiting for the next "crust" to come out of the oven. Fun day that I've shared with friends. I'll follow up with a review later.

- 3/7/11