Nutritional Info
Servings Per Recipe: 12
Amount Per Serving
Calories:

163.2
Total Fat:

2.8 g

Cholesterol:

16.6 mg

Sodium:

423.7 mg

Total Carbs:

31.3 g

Dietary Fiber:

2.9 g

Protein:

5.2 g
Report Inappropriate Recipe
Reduced Guilt Cornbread
Submitted by: COPPERHEAD71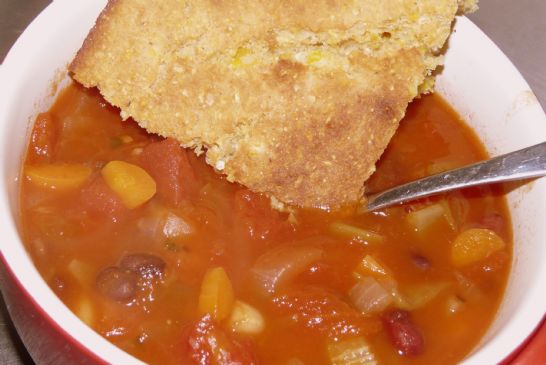 Introduction
Why buy an off-the-shelf cornbread mix when it's this easy to make a delicious and diet-friendly cornbread at home? I recommend serving this with my 3 Bean Vegan Chili for a complete meal. For a video demonstration of this recipe, and many other great dishes, "like" me on Facebook at http://www.facebook.com/Collee
nsKitchen1
Why buy an off-the-shelf cornbread mix when it's this easy to make a delicious and diet-friendly cornbread at home? I recommend serving this with my 3 Bean Vegan Chili for a complete meal. For a video demonstration of this recipe, and many other great dishes, "like" me on Facebook at http://www.facebook.com/Collee
nsKitchen1
Ingredients
2 cups yellow cornmeal




1 cups all purpose flour




1/4 cup sugar




1/4 cup splenda




1.5 tbsp baking powder




1 tsp salt




1/4 cup nonfat, plain Greek yogurt




1.5 cups lowfat buttermilk




1 large egg




1 tbsp canola oil




1/2 cup frozen sweet corn, thawed and smashed with the back of a wooden spoon.
Directions
Preheat the oven to 400. Grease a 12" x 7.5" x 2" baking dish and set aside. Combine the cornmeal, flour, sugar, splenda, baking powder and salt in a medium mixing bowl; set aside. In a large mixing bowl, whisk together the yogurt, buttermilk, egg and oil. Stir in the dry mixture just until combined. Add the corn. Pour into the baking dish, speading evenly. Bake for 20 minutes or until the bread is golden and a knife inserted in the center comes out clean. Cut into 12 evenly sized pieces.

Serving Size: Makes 12 squares

Number of Servings: 12

Recipe submitted by SparkPeople user COPPERHEAD71.


Great Stories from around the Web
Rate This Recipe