Nutritional Info
Servings Per Recipe: 12
Amount Per Serving

Calories: 382.2
Total Fat:

19.9 g

Cholesterol:

95.1 mg

Sodium:

336.1 mg

Total Carbs:

50.1 g

Dietary Fiber:

1.8 g

Protein:

3.9 g
Report Inappropriate Recipe
Chocolate Guinness Cake
Submitted by: CELTIC_WITCH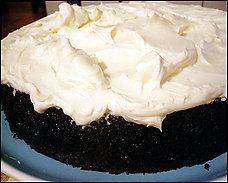 Ingredients
For the cake:




Butter for pan




1 cup Guinness stout




10 Tbs. unsalted butter




3/4 cup unsweetened cocoa




2 cups superfine sugar




3/4 cup sour cream




2 large eggs




1 tsp. vanilla extract




2 cups all-purpose flour




2-1/2 tsp. baking soda





For the topping:




1-1/4 cups confectioners' sugar




8 oz. cream cheese, at room temperature




1/2 cup heavy cream.



Directions
Heat oven to 350 degrees F. Butter a 9-inch springform pan and line with parchment paper. In a large saucepan, combine Guinness and butter. Place over medium-low heat until butter melts, then remove from heat. Add cocoa and superfine sugar, and whisk to blend.
In a small bowl, combine sour cream, eggs, and vanilla; mix well. Add to Guinness mixture. Add flour and baking soda, and whisk again until smooth. Pour into buttered pan, and bake until risen and firm, 45 minutes to one hour. Place pan on a wire rack and cool completely in pan.

For the topping: Using a food processor or by hand, mix sugar to break up lumps. Add cream cheese and blend until smooth. Add heavy cream, and mix until smooth and spreadable.

Remove cake from pan and place on a platter or cake stand. Ice top of cake only, so that it resembles a frothy pint of Guinness.



Number of Servings: 12

Recipe submitted by SparkPeople user CELTIC_WITCH.


Great Stories from around the Web
Rate This Recipe
Member Ratings For This Recipe
This was a delicious cake...not too sweet, yet it totally satisfied a chocolate cake craving. I made it for a group of co-workers and they all raved about it! I had to use a bundt pan since I couldn't find my spring-form, and baked it for 1 hour. I would cut the recipe for the icing in half.

- 6/9/09

This was gorgeous. I used a silicon cake 'tin' and found that 1 hour was a touch too long so will reduce the time slightly until I get it right. I found the icing was hard work to mix even with an electric mixer so the muscles had to come out. Too much, so had to freeze half of it.

- 9/26/08

Wow! I made this for my brother's birthday (he loves Guinness) and although we were all *very* skeptical, this turned out amazing! The icing isn't too sweet which was perfect for the guys! I thought it tasted like a chocolate Guinness, but everyone told me that's because I don't drink. So good!

- 7/24/08