Nutritional Info
Servings Per Recipe: 8
Amount Per Serving
Calories:

188.2
Total Fat:

4.6 g

Cholesterol:

0.0 mg

Sodium:

315.9 mg

Total Carbs:

40.2 g

Dietary Fiber:

6.2 g

Protein:

5.2 g
Report Inappropriate Recipe
A1 Vegan whole wheat banana walnut muffins (sugar free mod 6-5-11)
Submitted by: LIFEHASCHANGES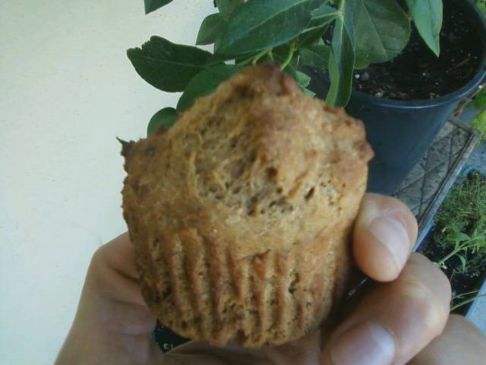 Introduction
PLEASE CUT DOWN SERINGS WHEN BAKED IN CUPCAKE PANS. I had to put in cake pan and make even 8 slices. that means I willl have to modify portions at the plate.....

basic no egg banana walnut muffins starter for mod-ing
PLEASE CUT DOWN SERINGS WHEN BAKED IN CUPCAKE PANS. I had to put in cake pan and make even 8 slices. that means I willl have to modify portions at the plate.....

basic no egg banana walnut muffins starter for mod-ing
Ingredients
1 cup equivalent to sugar of a sweetner (this recipe is using splenda at 48 tsp or 1cup)





(did not use in these calculations last time! didnt have! ;;;;;




2 tsp imiitation vanilla extract (or real)





2 tsp immitation rum extract (or real))





2 cups whole wheat flour





310 grams of bananas (or about 1 cup of banana and 3 tables spoons mashed and runny)





1 tbsp (or two) cinnamon (two used in the abbove acalculations)





.33 cup walnuts (adjustable)





2 tsp baking soda





2 tsp apple cider vinegar





1 tsp baking powder (did not use above so lets see what these came out as!)





1/2 cup water






Directions
mix together all dry ingredients. Mix together all wet ingredients.

add the walnuts in with the wet.

slowly combine dry into wet, mixing well.

put into [your choice] baking cups, or just spray a non stick muffin pan with olive oil spray (look online for a misto, you dont need to buy those cans over and over! guilt be gone!).


Added 1 tsp olive oil to top of pan and spread some on bottom since no decent oo spray. added into calc.
there should be enough for 1/4 cup of batter in each muffin spot, for 12 muffins.
It was exact when I made them.

bake at 375 degrees for 20 minutes. Depending on your elevation you may need to adjust (I live on the california coast), so watch them.

Vegan baking tip, when no oil is used in batter:
spray tops of baked goods with olive oil spray, it moistens them nicely. Do so before baking as well for an even nicer presentation (vegan baking can come out dry when you reduce fats!).

Yum!



Number of Servings: 8

Recipe submitted by SparkPeople user MRSKITTKITT.


Great Stories from around the Web
Rate This Recipe