Nutritional Info
Servings Per Recipe: 3
Amount Per Serving
Calories:

268.4
Total Fat:

12.3 g

Cholesterol:

12.5 mg

Sodium:

695.7 mg

Total Carbs:

31.6 g

Dietary Fiber:

5.0 g

Protein:

11.0 g
Report Inappropriate Recipe
Grilled Greek Pizza
Submitted by: COPPERHEAD71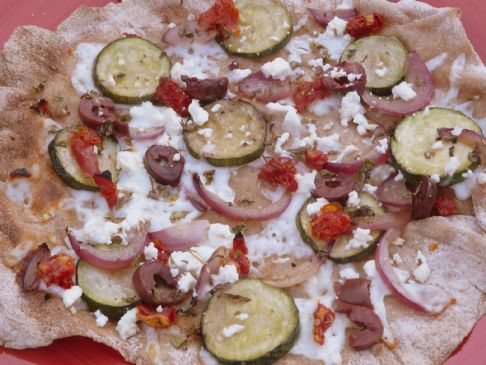 Introduction
For a video demonstration of this recipe, and many other delicious dishes, "like" me on Facebook at http://www.facebook.com/ColleensKitchen1
For a video demonstration of this recipe, and many other delicious dishes, "like" me on Facebook at http://www.facebook.com/ColleensKitchen1
Ingredients
6 oz. Trader Joe's Whole Wheat Pizza Dough - divided into three 2-oz. pieces




1 baby zucchini, sliced




1/2 small red onion, quartered and sliced




1 tbsp olive oil




1 tsp red wine vinegar




1/4 tsp fine sea salt




1/4 cup sundried tomatoes (dried, not packed in oil), chopped




6 Greek kalamata olives, chopped




1 clove garlic, pressed or finely minced




1.5 oz. shredded part-skim mozzarella cheese




1.5 oz. crumbled light feta cheese




2 tbsp chopped fresh oregano
Directions
Preheat your grill.

Roll each section of dough out as thinly as desired -- I like mine thin because it gives me more surface for toppings.

Toss the zucchini and onion with 1 tsp of the olive oil and the red wine vinegar. Cook on the grill about 2 minutes each side until tender. Remove from heat.

Combine the remaining 2 tsp olive oil and garlic in a ramekin. Have all of the ingredients close by as the pizza dough cooks quickly and you'll need to assemble everything quickly.

Lay the pizza dough directly on the grill, cooking about 1-1.5 minutes per side until no longer doughy. Remove from the grill, but keep the grill heated as you'll be using it again shortly.

Brush the top of each pizza with a little of the olive oil/garlic mixture. Layer on the mozzarella cheese (0.5 oz./pizza), zucchini, red onion, sundried tomatoes, kalamata olives, feta cheese (0.5 oz./pizza), and fresh oregano on each pizza. Put on the top rack of the grill (so not directly over the flame), close the lid and cook on low for about 5 minutes until the cheese is melted. Serve immediately.

Serving Size: Makes 3 individual pizzas

Number of Servings: 3

Recipe submitted by SparkPeople user COPPERHEAD71.


Great Stories from around the Web
Rate This Recipe