Nutritional Info
Servings Per Recipe: 4
Amount Per Serving
Calories:

261.4
Total Fat:

6.7 g

Cholesterol:

21.7 mg

Sodium:

127.5 mg

Total Carbs:

25.4 g

Dietary Fiber:

5.5 g

Protein:

24.1 g
Report Inappropriate Recipe
Grilled Blackberry Pomegranate Glazed Chicken Salad
Submitted by: COPPERHEAD71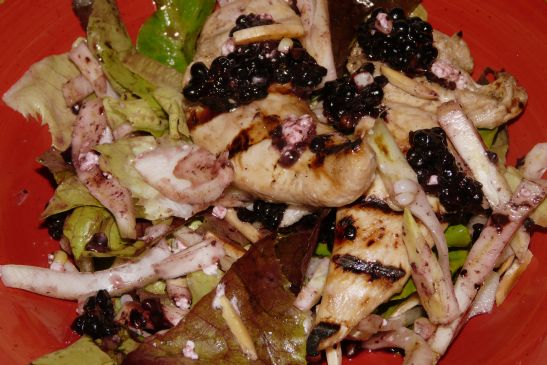 Introduction
This is one of my favorite farmer's market salads. The delicious combination of fresh blackberries, pomegranate juice, fennel and crumbled goat cheese -- just to name a few key ingredients -- packs a powerful punch of good-for-you flavor. Enjoy it with some warm, crusty artisan bread and a glass of chilled rose wine in the company of good friends and you have the perfect light summer meal.

For a video demonstration of this recipe, and many more delicious dishes, "like" me on Facebook at http://www.facebook.com/Collee
nsKitchen1
This is one of my favorite farmer's market salads. The delicious combination of fresh blackberries, pomegranate juice, fennel and crumbled goat cheese -- just to name a few key ingredients -- packs a powerful punch of good-for-you flavor. Enjoy it with some warm, crusty artisan bread and a glass of chilled rose wine in the company of good friends and you have the perfect light summer meal.

For a video demonstration of this recipe, and many more delicious dishes, "like" me on Facebook at http://www.facebook.com/Collee
nsKitchen1
Ingredients
1/2 cup unsweetened 100% pomegranate juice




1 tbsp balsamic vinegar




1 tbsp honey




1 clove garlic




1 tsp minced fresh ginger root




1/8 tsp red chili pepper flakes




8 boneless, skinless chicken breast tenderloins




8 large leaves butter lettuce chopped (about 5 cups chopped)




1/4 cup raw slivered almonds




1 fennel bulb chopped




1 ear of corn cooked, cooled, and kernels cut off (or 1/2 cup frozen corn kernels thawed)




1/4 cup crumbled goat cheese




1 cup fresh blackberries
Directions
In a small saucepan, whisk together the pomegranate juice, vinegar, honey, garlic, ginger, and red chili pepper flakes. Bring to a boil then reduce to medium-low and let cook for about 15-20 minutes until reduced and slightly thickened.

Put the chicken breast tenderloins in a ziploc bag and add 2 tbsp of the sauce. Set the rest of the sauce aside and let cool. Let the chicken sit in the glaze for about 5 minutes.

Toast the almonds in a small skillet until just brown, set aside and let cool.

Grill the chicken on a barbecue or indoor grill about 3 minutes per side or until cooked through. Set aside and let cool just slightly.

Add the blackberries to the remaining sauce, crushing slightly with the back of a fork to release the juices. This will be your dressing.

Put the lettuce in a salad bowl. Top with the fennel, corn, goat cheese and almonds. Lay the grilled chicken across the top of the salad (2 tenderloins/person). Drizzle the blackberry dressing over the top and serve immediately.

Serving Size: Makes 4 servings

Number of Servings: 4

Recipe submitted by SparkPeople user COPPERHEAD71.


Great Stories from around the Web
Rate This Recipe