Nutritional Info
Servings Per Recipe: 4
Amount Per Serving
Calories:

74.2
Total Fat:

4.8 g

Cholesterol:

14.9 mg

Sodium:

403.3 mg

Total Carbs:

2.8 g

Dietary Fiber:

0.9 g

Protein:

5.4 g
Report Inappropriate Recipe
Cauliflower & Cheddar Soup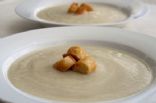 Introduction
serves 4
serves 4
Ingredients
1/4 cup chopped onion




2 cups low-sodium chicken broth




2 cups water




1 cup chopped cauliflower




1/4 tsp. basil




1/4 tsp. parlsey




1/2 bay leaf




2 oz. shredded cheddar cheese




black pepper to taste
Directions
Spray a saucepan with fat-free, non-stick cooking spray. Lightly saute onion. Add chicken broth, water, and cauliflower. Bring to a boil. Add spices and reduce heat. Cover and simmer for 20-25 minutes or until cauliflower is soft. Transfer contents of the saucepan into a blender and puree until smooth. Return to saucepan. Add cheddar cheese. Stir until cheese melts.

makes 4 1-cup servings

Number of Servings: 4

Recipe submitted by SparkPeople user SNAPHU.


Great Stories from around the Web
Rate This Recipe
Member Ratings For This Recipe