Nutritional Info
Servings Per Recipe: 1
Amount Per Serving

Calories: 0.3
Total Fat:

0.0 g

Cholesterol:

0.0 mg

Sodium:

0.0 mg

Total Carbs:

0.1 g

Dietary Fiber:

0.0 g

Protein:

0.0 g
Report Inappropriate Recipe
~26~ Wine & Cheese Party - Your Beautiful Table - Side Table
Submitted by: VEHAMILTON1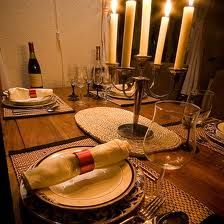 Introduction
Side Table

1. Remove chairs from around the side table.
2. Place it in an open area where quests can easily move from cheese to the buffet.
3. Separate the two sides with flowers.

Wine & Cheese Station
1. Place wine glasses at the head of the table with napkins.
2. Place wine glass rings, note paper and pens on a tray so guests can jot down down their thoughts.
3. Set up 4 Wine & Cheese stations.
4. Go from the hardest cheese to the softest cheese.
5. Use a different knives for each cheese station.
6. Use individual cutting boards with glass domes.
7. Use glass domes, cake saver covers or clear glass mixing bowls to cover cheese. It really does not matter what you use. Your sole purpose is to protect the cheese and to keep it's fragrance enclosed until it is time to reveal it.
8. Make a card with the name of each cheese & wine pair.
9. Fold in half and place next to it's cheese station.
10. Place a pitcher of water and glasses at the end of the table.

Note: Set the cheese out, covered, one hour before guests arrive. Leave cheeses covered until it is time to taste them. Their flavor peaks at room temperature, 70 Degrees F. (cont...)
Side Table

1. Remove chairs from around the side table.
2. Place it in an open area where quests can easily move from cheese to the buffet.
3. Separate the two sides with flowers.

Wine & Cheese Station
1. Place wine glasses at the head of the table with napkins.
2. Place wine glass rings, note paper and pens on a tray so guests can jot down down their thoughts.
3. Set up 4 Wine & Cheese stations.
4. Go from the hardest cheese to the softest cheese.
5. Use a different knives for each cheese station.
6. Use individual cutting boards with glass domes.
7. Use glass domes, cake saver covers or clear glass mixing bowls to cover cheese. It really does not matter what you use. Your sole purpose is to protect the cheese and to keep it's fragrance enclosed until it is time to reveal it.
8. Make a card with the name of each cheese & wine pair.
9. Fold in half and place next to it's cheese station.
10. Place a pitcher of water and glasses at the end of the table.

Note: Set the cheese out, covered, one hour before guests arrive. Leave cheeses covered until it is time to taste them. Their flavor peaks at room temperature, 70 Degrees F. (cont...)
Ingredients
Preparation: The Day Before





1. Plan and set up 2 tables.




2. Pick up flowers when you shop for groceries.




3. Wash and iron table cloths. Polish candle sticks.




4. Wash your dishes. Plan for each guest to have 2 wine glasses, 2 water glasses, a cup, saucer, plate, spoon, napkin, small fork for eating cake and butter knife for spreads.




5. Have extra utensils and napkins ready for unexpected guests.





Dinner Table




The "Dinner Table" is for your guests to sit down to dinner. Decorate the table with a low flower arrangement and candles so guests can see each other as they continue their conversations as they eat.





Side Table




The "Side Table" is used for the wine & cheese stations, the appetizers and buffet foods.





1. Remove any chairs from around the side table.




2. Place it in an open area where quests can easily move from the cheese station to the appetizers on the other side of the table.





3. Separate the two sides of the table by running a floral centerpiece down the mid section of the table.





Wine & Cheese Side of the Table:




1. Place wine glasses at the head of the table with napkins.




2. Place the wine glass rings, decorative note paper and pens on a tray so guests can jot down down their thoughts and impressions..




3. Set up 4 Wine & Cheese stations.




4. Go from the hardest cheese to the softest cheese.




5. Use a different knives for each cheese station.




6. Use individual cutting boards with glass domes.




7. Use glass domes, cake saver covers or clear glass mixing bowls to cover cheese. It really does not matter what you use. Your sole purpose is to protect the cheese and to keep it's fragrance enclosed until it is time to reveal it.




8. Use a folded index card with the name of each cheese and it's wine pair.




9. Place the card next to it's appropriate cheese station.




10. At the end of the table, place a pitcher of water and water glasses.





Note: Set the cheese out, covered, one hour before guests arrive. Leave cheeses covered until it is time to taste them. Their flavor peaks at room temperature, 70 Degrees F.





Buffet Side of the Table




The buffet side will change from appetizers to dinner and then to desert.





Appetizers




1. Place small plates and napkins at the head of the table.




2. Set out trays of appetizers for guests to nibble on between samples.




3. Encourage them to the wine & cheese with the different types of foods on the tray like: fresh baked bread, water crackers, grapes, blueberries, raspberries, strawberries or dried fruits like apricots, dates, figs, roasted nuts and candied nuts olives.




Note: Flavored crackers will kill the taste of cheese.





Sharp Cheddar & Pinot Noir




Slice off a piece of Sharp Cheddar. Place it on a small plate with a thin slice of fresh baked bread, chutney, a few green, red and purple seedless grapes. Take a sip of a medium bodied Pinot Noir or Cotes du Rhone and see how they tastes together.





Brie & Sparkling Wine




Slice off a piece of Brie. Place it on a small plate with some ginger snaps, honey and candied nuts. Top the ginger snap with Brie, a little honey and candied nuts.




Have a sip of a sparkling wine like Riesling or Zardetto Prosecco and enjoy.
Tips
Directions
Serving Size: Makes 6-10 servings of fun!


Rate This Recipe