Nutritional Info
Servings Per Recipe: 3
Amount Per Serving
Calories:

376.6
Total Fat:

17.5 g

Cholesterol:

107.5 mg

Sodium:

943.0 mg

Total Carbs:

24.6 g

Dietary Fiber:

2.1 g

Protein:

29.5 g
Report Inappropriate Recipe
Ham & Egg Turnovers
Submitted by: ARNOLDHEA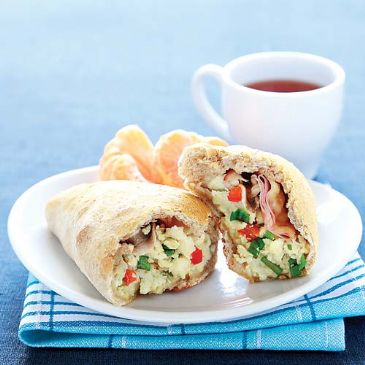 Introduction
September Diet Menu Breakfast
September Diet Menu Breakfast
Ingredients
1/4c. Green Onions, diced




1/2tsp. Garlic, minced




1/4c. Red Bell Peppers, chopped




1/4c. Mushrooms, sliced




1/2tbsp. Olive Oil




1 Egg




3 Egg Whites




1/4tsp. Pepper




1/8tsp. Thyme




1/8tsp. Parsley




8oz. Pre-made Whole Wheat Pizza Dough




1/8c. Wheat Flour




3 slices Swiss Cheese, reduced-fat




3/4c. Ham, lean, diced
Directions
Preheat oven to 400°F. In a medium nonstick skillet, sauté green onions, garlic, red pepper and mushrooms in 1/2 of olive oil for 5 minutes over medium-high heat. While sautéing, whisk together eggs, egg whites, black pepper, thyme and parsley in a bowl. Pour egg mixture into skillet. Scramble with vegetables for about 3 to 5 minutes or until eggs are set and fluffy. Transfer to medium bowl. Let cool. Dust a work surface and rolling pin with flour. Kneed dough until it is in a tube-like shape, about 6 inches long. Divide dough into 6 sections by cutting with a knife. Roll out each section into a circle and place circles onto a foil-lined baking sheet. To assemble, layer the following ingredients: On each circle of dough, place 1/2 slice cheese, 1/3 cup egg-veggie mixture, 1 oz ham and top with other 1/2 slice cheese. Fold dough over to make a half-moon shape, pinch sides together with water to stick. Brush outer dough with remaining oil. Bake for 20 to 25 minutes, until dough is golden and feels crusty to the touch. Allow to cool or flash freeze, add to gallon freezer bag and freeze. To serve: Reheat in microwave or in oven.

Serving Size: Makes 3 turnovers, 1 serving = 1 turnover

Number of Servings: 3

Recipe submitted by SparkPeople user ARNOLDHEA.


Great Stories from around the Web
Rate This Recipe