Nutritional Info
Servings Per Recipe: 10
Amount Per Serving
Calories:

264.3
Total Fat:

8.7 g

Cholesterol:

132.9 mg

Sodium:

708.0 mg

Total Carbs:

12.8 g

Dietary Fiber:

1.1 g

Protein:

28.2 g
Report Inappropriate Recipe
Seafood Casserole
Submitted by: ARNOLDHEA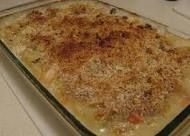 Introduction
September Diet Menu Dinner
September Diet Menu Dinner
Ingredients
12oz. Cod fish




16oz. Shrimp




8oz. Crab meat




1oz. Cauliflower




2 Leeks




1c. Celery, diced




1/2c. Corn




1/2c. Carrots, chopped




2c. Seafood Stock




2c. Swiss Cheese, Reduced-Fat




1/4c. Wheat Flour




1c. Milk, skim




1tsp. Olive Oil




1tbsp. Old Bay Seasoning




1/2tsp. Pepper




1tbsp. Dijon Mustard




1/2c. Breadcrumbs
Directions
Coat indicated number of 8x8 baking dishes with non-fat cooking spray. Heat 1 tsp oil in a Dutch oven over medium-high heat. Add leeks and celery and cook, stirring often, until the leeks are softened, 2 to 3 minutes. Stir in cauliflower, stock, corn, carrots, half of Old Bay and pepper. Cover and bring to a simmer over high heat. Reduce heat to medium-low and simmer, covered, until the cauliflower is just tender, 5-8 minutes.
Whisk milk, flour and mustard in a measuring cup. Stir into the cauliflower mixture, increase heat to medium-high and bring to a simmer, stirring constantly. Stir in shrimp and fish and return to a simmer, stirring often; cook until the seafood is just cooked through, about 3 minutes. Remove from the heat and stir in crab,half of the low fat Swiss cheese and half the dill. Transfer the seafood mixture to the prepared baking dish. Mix breadcrumbs with the remaining Old Bay. Stir in the remaining Swiss cheese and the remaining dill. Sprinkle the breadcrumb mixture over the casserole. Cover and Freeze. To serve: Thaw. Remove foil cover. Bake the casserole until it is bubbling and golden brown, 20 to 30 minutes. Let stand 10 minutes before serving.

Serving Size: Makes ~8 servings

Number of Servings: 10

Recipe submitted by SparkPeople user ARNOLDHEA.


Great Stories from around the Web
Rate This Recipe