Nutritional Info
Servings Per Recipe: 27
Amount Per Serving

Calories: 88.8
Total Fat:

0.8 g

Cholesterol:

1.2 mg

Sodium:

346.0 mg

Total Carbs:

17.8 g

Dietary Fiber:

0.9 g

Protein:

2.3 g
Report Inappropriate Recipe
Samhain Bread
Submitted by: CELTIC_WITCH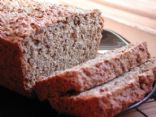 Introduction
Oatmeal Applesauce Breadmachine Bread
Oatmeal Applesauce Breadmachine Bread
Ingredients
1 cup water




2/3 cup applesauce




4 tsp butter




4 cups bread flour




4 tsp brown sugar




1 tsp salt




1/4 tsp ground mace




1-1/2 yeast
Directions
Put oatmeal in shallow pan and bake at 350 for 15 to 20 minutes (this will toast the oatmeal & give it a slightly nutty taste). Allow to cool

Add all ingredients to bread machine bowl. Wet items then dry, finally yeast. Use basic white cycle.

Number of Servings: 27

Recipe submitted by SparkPeople user CELTIC_WITCH.


Rate This Recipe
Member Ratings For This Recipe