Nutritional Info
Servings Per Recipe: 10
Amount Per Serving
Calories:

179.9
Total Fat:

5.5 g

Cholesterol:

32.0 mg

Sodium:

396.8 mg

Total Carbs:

20.3 g

Dietary Fiber:

1.5 g

Protein:

12.2 g
Report Inappropriate Recipe
Teriyaki Turkey Burritos
Submitted by: ARNOLDHEA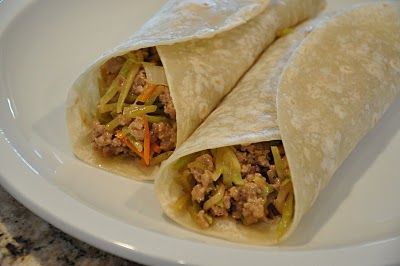 Introduction
OAMM November Diet Menu
OAMM November Diet Menu
Ingredients
10 Tortillas, Whole-Wheat, 8-in.




1lb. Ground Turkey, lean




1/2c. Onion, diced




1tsp Garlic, minced




16oz Broccoli coleslaw mix




1/3 c. Teriyaki Sauce




1/4tsp. Pepper, black
Directions
Cook turkey, onion, and garlic in a large skillet until turkey is brown. Drain; pour into a bowl and set aside, reserving 1 tbsp of turkey drippings in the skillet. In the same skillet, stir fry the broccoli coleslaw mix for 10 minutes. Add the teriyaki sauce and pepper; cook and stir for 1 minute longer. Remove from heat. Return the turkey mixture to the skillet, and stir to combine with the broccoli colelsaw. Warm the tortillas in the microwave for 30 seconds or until soft. Spoon approximately 1/2 cup of turkey filling onto each tortilla, and roll up.

To freeze: Cool, then wrap each burrito individually in plastic wrap. Place all burritos in gallon-size freezer bags; label and freeze.

To serve: Remove two burritos from plastic wrap, and microwave for 1-2 minutes or until heated through.

Serving Size: Makes 10 single-serving Burritos

Number of Servings: 10

Recipe submitted by SparkPeople user ARNOLDHEA.


Great Stories from around the Web
Rate This Recipe