Nutritional Info
Servings Per Recipe: 4
Amount Per Serving
Calories:

163.3
Total Fat:

7.7 g

Cholesterol:

0.0 mg

Sodium:

135.4 mg

Total Carbs:

24.4 g

Dietary Fiber:

6.1 g

Protein:

3.0 g
Report Inappropriate Recipe
Roasted Curry Harvest Vegetables
Submitted by: COPPERHEAD71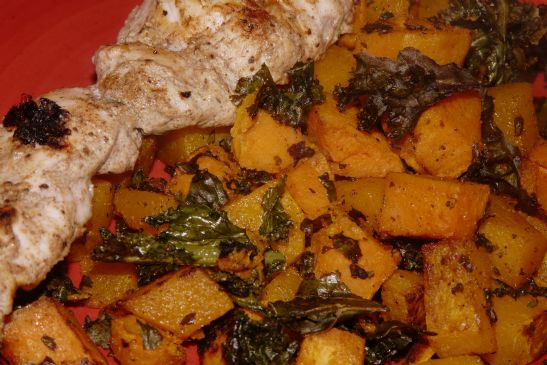 Introduction
When you're looking for an easy fall dinner, look no further than this 20 minute, Indian inspired meal. My Bombay Chicken Skewers incorporate greek yogurt and garam masala, a traditional Indian spice, while a hint of curry lends a lovely exotic flavor to a roasted blend of butternut squash, sweet potato and kale.

For a video demonstration of this recipe, and many more delicious dishes, "like" Colleen's Kitchen on Facebook at www.facebook.com/ColleensKitch
en1
When you're looking for an easy fall dinner, look no further than this 20 minute, Indian inspired meal. My Bombay Chicken Skewers incorporate greek yogurt and garam masala, a traditional Indian spice, while a hint of curry lends a lovely exotic flavor to a roasted blend of butternut squash, sweet potato and kale.

For a video demonstration of this recipe, and many more delicious dishes, "like" Colleen's Kitchen on Facebook at www.facebook.com/ColleensKitch
en1
Ingredients
6 leaves kale cut into large wedges (about 3"x3")




1 sweet potato (about 12 oz.) peeled and cut into cubes (about 1/2" square)




1 lb. butternut squash seeded, peeled and cubed (about 1/2" square)




2 tbsp olive oil




1 tbsp curry powder




1/4 tsp coarse sea salt crystals
Directions
Preheat oven to 425.

The secret to this dish is to cut the kale into larger chunks and the sweet potato and squash into smaller chunks so that they cook evenly and you don't end up with the kale overcooked or the squash and sweet potato overcooked.

Mix together the olive oil, curry powder and salt. Toss with the kale, sweet potato and butternut squash so that the vegetables are evenly coated. Spread into a single layer on a baking sheet.

Bake for 10 minutes. Toss your vegetables on the baking sheet then bake for another 5-10 minutes until the sweet potato and squash are slightly golden and crispy on the outside but tender on the inside.

Serve immediately.

Serving Size: Makes 4 servings

Number of Servings: 4

Recipe submitted by SparkPeople user COPPERHEAD71.


Great Stories from around the Web
Rate This Recipe