Nutritional Info
Servings Per Recipe: 12
Amount Per Serving
Calories:

135.2
Total Fat:

3.1 g

Cholesterol:

7.9 mg

Sodium:

709.8 mg

Total Carbs:

25.8 g

Dietary Fiber:

1.5 g

Protein:

3.9 g
Report Inappropriate Recipe
Creamy Butternut Squash & Apple Soup
Submitted by: PRIMA_DONNA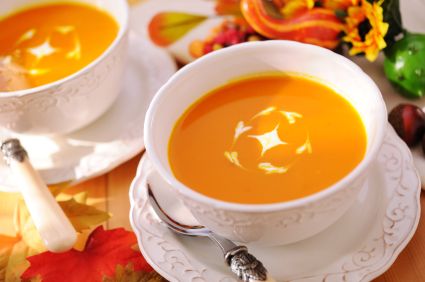 Introduction
Delicious first course for winter holiday meals.
Delicious first course for winter holiday meals.
Ingredients
2 tbsp unsalted butter




1 medium yellow onion, chopped




1 butternut squash, about 3 lbs., peeled, seeded & cut into 1" cubes




6 cups low-sodium chicken broth




4 medium Granny Smith apples, peeled, cored & chopped




1/4 tsp freshly ground nutmeg




4 pinches of Spanish saffron threads, about 1 tsp (optional) or 1 tsp sweet curry (optional)




2 cups fat-free half & half




Salt & freshly ground pepper, to taste
SparkPeople Sponsored Video
Directions
In a large soup pot, over medium heat, melt butter and saute' onion, stirring occasionally, until tender, 4 to 6 minutes.
Add the squash and broth, bring to a boil and reduce heat to medium-low.
Simmer, stirring occasionally, until the squash is tender when pierced with a fork.
Add chopped apples, saffron or curry (if desired) and nutmeg.
Simmer until the apples are tender, stirring occasionally. Using a food processor or blender, puree the soup in batches until smooth.
Be extremely careful not to overfill the processor/blender container which could cause severe burns.
Return the soup to the pot and stir in half and half. Season, to taste with salt and pepper.


Number of Servings: 12

Recipe submitted by SparkPeople user DONNAC1188.


Great Stories from around the Web
Rate This Recipe
Member Ratings For This Recipe
YOU DON'T HAVE TO PEEL THE BUTTERNUT! JUST CUT IT IN HALF TAKE THE SEEDS OUT AND PLACE THE INNER PART OF THE BUTTERNUT FACE DOWN (THIS MEANS THE SKIN THAT YOU WOULD OF PEELED OFF IS FACING UP). WHEN DONE (IT WILL FEEL SOFT) .. SCOOP OUT THE SQUASH YUMMM! A LOT BETTER THEN PEELING!!!

- 11/15/09

Made this yesterday to have for supper today. I used butter cup squash because that is what I have from the garden. I used curry and my locally picked apples, and 2% milk because I didn't want to go to the store for half & half. Was enjoyed by all. Great and easy recipe.

- 11/1/09

This soup is so delicious and surprisingly sweet! I used almond milk instead of half and half but it still turned out creamy and wonderful. Since I opted to use curry powder, rather than saffron, I topped the steaming soup with a dash of cinnamon, which really brought everything together nicely.

- 11/23/11

This great recipe is wide open for improvisation! The first time I used 2 tsp. curry in the butter with the onion to develop the curry flavor. I've made it with persimmon pulp too. I like HEHC2GOOD's herbs and I've used apple juice instead of cream and yam instead of squash! FUN to play with.

- 1/8/08

I loved this! And I left out the cream and didn't miss it at all. Also cut the effort- left the peel on the apples and blended with an immersion blender instead of a stand blender and still perfectly smooth but extra fiber from the peels and easier clean up!

- 2/10/11

Time consuming to peel and cube the squash and apples but so delicious! A wonderful fall soup that is being added to my repertoire! My slight adjustments were a lot of pepper and using half soy milk, half 2% milk instead of half and half since that's what I had in the house. Thanks for the recipe!

- 10/23/09

I made this soup for lunch today , however I had too much broth , so luckily I did strain a lot off before blending and used fatfree cream also added more curry along with cinnamon. This was very tasty ! Would also be good with some bacon bits or sausage but this is meatless Monday for my family.

- 11/11/13

For those who have tried it, what did 12 servings actually yield as a serving size? 1 cup...2 cups? Etc.. I don't want to make this and guesstimate, or get out 12 containers and attempt to portion it out equally. I am just starting so proper portions are still new to me.

- 10/16/12

Whenever recipes call for cream I always use lowfat or fat free evaporated milk. It has a lot of milk solids which makes things taste creamy without the fat. Plus it's kept on hand in the pantry so I don't have to run to the store. 1 can is also usually the right amount too so no wasting.

- 8/28/12

I made it without saffron and curry; delicious tasting and filling none-the-less.I let the soup simmer to reduce the broth liquid a bit. I also substituted carnation evaporated nonfat milk for half and half as that is what I had on hand. A recipe to definitely make again.

- 2/28/11

Great hearty soup! I make a large batch (not including the half & half) and freeze it in 1-2 serving size containers. Then, after it's thawed, as it's heating, I add about 2-3 Tbsp. of the non-fat half & half to each serving. I also make a similar soup with squash, apples and ginger.

- 2/21/11

Love this! I cooked chicken tenders with the onion, took them out while the squash and apples cooked. I used an Immersion blender, then diced the cooked chicken and added it back. I used 2% milk and just a dash of curry powder. The chicken added only a few extra calories. You don't get much .

- 1/27/11

Tasty soup, but not very filling. It's more time consuming than I like for a weeknight, but good for special occasions. I prepared the squash as recommended in the recipe, and found the peeling/cubing process to be very frustrating. Will cook differently in the future! I added minced garlic- Yum!

- 12/27/10

This is a GREAT recipe! I used a 4lb butternut squash and 3 apples (one of the apples was HUGE, so I used 3 instead of 4) I also didn't want to make a store run, so I used the rest of the milk I had (1 cup) and the remaining 1/3 cup of evaporated milk sitting in the frige. Delish!!!

- 12/26/10

Thank you so much for a wonderful recipe! I left out the 1/2 & 1/2 and ended up using Garlic Roasted Chicken Stock since that's what I had in the cupboard. And I roasted the squash in the oven first (saw the woman on 5 Ingredient fix roast hers for her soup today!!)

- 12/4/10

Leave out the butter and saffron. Tie some fresh rosemary and oregano in some cheescloth. Simmer until nice and soft, 1 to 1 1/2 hours. Puree with an immersion blender. No need to add any cream. My husband thinks it taste like a very good tomato (?) soup. Whatever, it tastes good!

- 9/12/10

Cut out the butter and it was still excellent. My company LOVED this recipe. I used light coconut milk instead of nonfat half and half. Did use 1 tsp. of red curry paste. Topped this off with some chopped cilantro which really kicked it up a notch. Recipe is definitely a keeper.

- 1/12/10