Nutritional Info
Servings Per Recipe: 4
Amount Per Serving
Calories:

172.9
Total Fat:

3.1 g

Cholesterol:

6.3 mg

Sodium:

202.7 mg

Total Carbs:

30.7 g

Dietary Fiber:

3.6 g

Protein:

6.5 g
Report Inappropriate Recipe
Butternut Risotto
Submitted by: COPPERHEAD71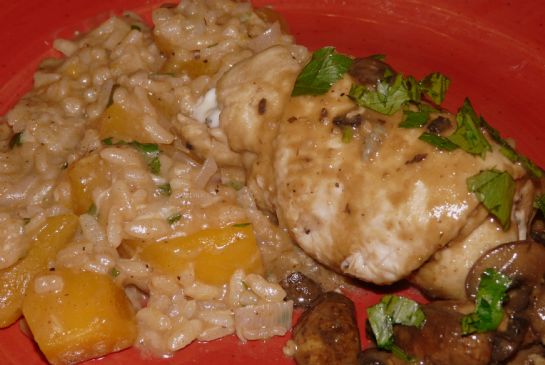 Introduction
I recommend serving this with my Sage Stuffed Turkey Scallopini for that perfect date night in with your special someone without leaving you feeling guilty in the morning. My turkey scallopini is bursting with the earthy flavors of sage, gorgonzola cheese and mushrooms, while my creamy butternut risotto makes the perfect partner in this dynamic duo. Enjoy!

For a video demonstration of this recipe, and many more delicious dishes, "like" Colleen's Kitchen on Facebook at www.facebook.com/ColleensKitchen1
I recommend serving this with my Sage Stuffed Turkey Scallopini for that perfect date night in with your special someone without leaving you feeling guilty in the morning. My turkey scallopini is bursting with the earthy flavors of sage, gorgonzola cheese and mushrooms, while my creamy butternut risotto makes the perfect partner in this dynamic duo. Enjoy!

For a video demonstration of this recipe, and many more delicious dishes, "like" Colleen's Kitchen on Facebook at www.facebook.com/ColleensKitchen1
Ingredients
1 tbsp Smart Balance Light Buttery Spread




1 shallot, thinly sliced




pinch of coarse sea salt




1 lb butternut squash, peeled, seeded and cubed




1/2 cup arborio rice




1 tbsp garam masala




2 cups homemade, salt free chicken broth




1/4 cup fresh Italian parsley, chopped




1/2 cup shredded parmesan cheese



Directions
Melt the buttery spread in a skillet over medium heat. Add the shallot and a pinch of coarse sea salt and saute until the shallot is slightly transparent. Add the butternut squash and continue cooking for 1-2 minutes. Add the arborio rice and toss well to coat the rice with the butter. Cook for about 2 minutes to allow the rice to get very lightly toasted. Add the garam masala and mix well. Add 1/2 cup of the chicken broth, mix well and reduce the heat to medium-low. Let cook until the broth is almost absorbed by the rice -- do not let the rice dry out. Add another 1/2 cup of the broth, again mix well and cook until the broth is absorbed. Continue doing this in 1/2 cup increments until the broth is gone and the rice is fully cooked and creamy. If you use all of the broth and the rice needs to cook further, add water. Once cooked, remove from heat and stir in the Italian parsley and parmesan cheese. Serve immediately.

Serving Size: Makes approximately 4 1-cup servings

Number of Servings: 4

Recipe submitted by SparkPeople user COPPERHEAD71.


Great Stories from around the Web
Rate This Recipe