Nutritional Info
Servings Per Recipe: 4
Amount Per Serving
Calories:

154.2
Total Fat:

4.9 g

Cholesterol:

6.2 mg

Sodium:

1,078.9 mg

Total Carbs:

19.9 g

Dietary Fiber:

3.3 g

Protein:

9.4 g
Report Inappropriate Recipe
Spicy Broccoli Cheddar Soup
Submitted by: ARNOLDHEA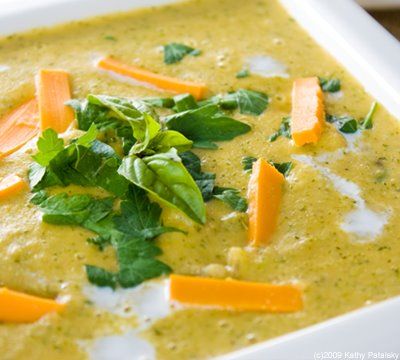 Introduction
OAMM November Diet Menu
OAMM November Diet Menu
Ingredients
3c. Broccoli, chopped




1 Jalapeno Pepper, chopped




1/2c. Onion, chopped




2tbsp. Lemon Juice




1 1/4c. Vegetable Broth




1/4tsp. Pepper, black




1/4tsp. Salt




1/2c. Half-and-Half, fat-free




1 1/4c. Potatoes, chopped




1/2c. Parsley, chopped




1tbsp. Olive Oil




1/2c. Milk, skim




1tbsp. Mayo, fat-free




1/2c. Cheddar Cheese, reduced-fat
Directions
In large soup pot, heat olive oil over medium-high heat and saute jalapeno and onion. When cooked lightly, add in lemon juice, vegetable broth, cheddar cheese, and salt and pepper. Reduce heat to medium. Steam the potatoes in a microwave steamer bag, then add to the soup pot, along with the chopped broccoli. Cover with lid. When broccoli is tender, turn the heat off. Transfer contents of pot into a large mixing bowl. Stir in parsley, half-and-half, mayonnaise, and milk. Fold new ingredients into the hot soup mixture. Puree the soup in a food processor or blender (may have to be done in batches), and return to the pot.

To freeze: Once soup has cooled, divide into indicated number of gallon-size freezer bags; label and freeze.

To serve: Thaw in refrigerator, then heat in a soup pot over medium heat until hot.

Serving Size: Makes 4 Servings

Number of Servings: 4

Recipe submitted by SparkPeople user ARNOLDHEA.


Great Stories from around the Web
Rate This Recipe