Nutritional Info
Servings Per Recipe: 2
Amount Per Serving
Calories:

306.7
Total Fat:

9.3 g

Cholesterol:

80.5 mg

Sodium:

309.9 mg

Total Carbs:

19.1 g

Dietary Fiber:

4.3 g

Protein:

30.9 g
Report Inappropriate Recipe
Butternut Salmon en Foil
Submitted by: COPPERHEAD71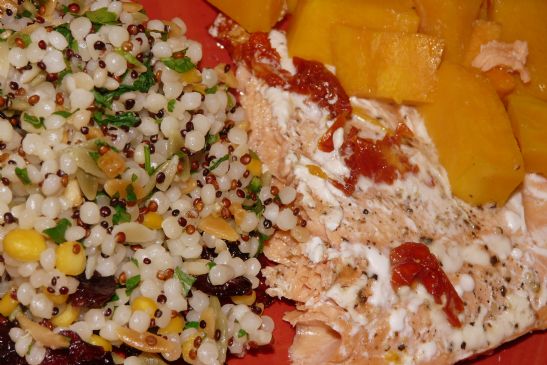 Introduction
Try this with a side of harvest grains cranberry pilaf for a meal that is not only delicious and good for you, but is also weeknight friendly with a prep and cook time of just 20 minutes. Enjoy!

Follow my weight loss journey through healthy cooking! For a video demonstration of this recipe, and many more delicious dishes, "like" Colleen's Kitchen on Facebook at http://www.facebook.com/ColleensKitchen1
Try this with a side of harvest grains cranberry pilaf for a meal that is not only delicious and good for you, but is also weeknight friendly with a prep and cook time of just 20 minutes. Enjoy!

Follow my weight loss journey through healthy cooking! For a video demonstration of this recipe, and many more delicious dishes, "like" Colleen's Kitchen on Facebook at http://www.facebook.com/ColleensKitchen1
Ingredients
1/2 lb. raw salmon filet




1/4 cup dry white wine




Pinch of coarse sea salt




Freshly ground black pepper




1/2 lb. butternut squash, peeled, seeded and cubed




1/4 cup sundried tomatoes, chopped (dry, not packed in oil)




1 sprig rosemary




1 cinnamon stick
Directions
Preheat oven to 350.

Line a baking sheet with a large piece of aluminum foil. Lay the salmon filet in the center. Drizzle the wine over the salmon then sprinkle with the salt and pepper. Put the butternut squash cubes over the top of the salmon then the sundried tomatoes. Top with a whole sprig of rosemary and a cinnamon stick. Lay another sheet of foil over the top and seal around the edges by folding the edges over twice -- you must have a tight seal.

Bake for 15 minutes or until the salmon is cooked through and the squash is tender. Be careful when removing from the oven, the package will be puffed up and full of hot air.

Serving Size: Makes 2 servings

Number of Servings: 2

Recipe submitted by SparkPeople user COPPERHEAD71.


Great Stories from around the Web
Rate This Recipe