Nutritional Info
Servings Per Recipe: 5
Amount Per Serving
Calories:

284.0
Total Fat:

11.3 g

Cholesterol:

0.0 mg

Sodium:

1,369.0 mg

Total Carbs:

41.0 g

Dietary Fiber:

3.8 g

Protein:

5.6 g
Report Inappropriate Recipe
Fougasse Bread
Submitted by: NELKATA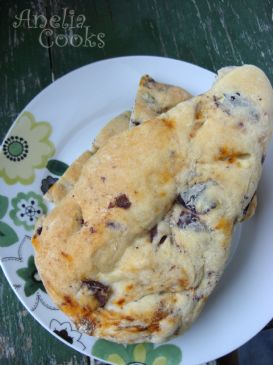 Introduction
Taken off Food.com and Chef DrGaellon.

Taken off Food.com and Chef DrGaellon.

Ingredients
1/2 (7 g) packet dry active yeast




1 tsp salt




3/4 tsp sugar




1 tbsp olive oil




3/4 cup very warm water




1 3/4 cups flour




10 large olives (pitted and halved or quartered)




1/2 tbsp olive oil for brushing
Tips
Read more: http://www.food.com/recipe/fougasse-olive-bread-459234#ixzz1fbB3aysk
Directions
1. In a large enough bowl, combine water, yeast, salt, sugar and olive oil. Stir in flour with a wooden spoon or mixer just until all the flour is incorporated; do not knead.

2. Let stand at room temperature 2 hours, or until it rises then collapses. (Dough may be used at this point, or refrigerated for up to 5 days.).

3. Place an empty broiler tray or baking pan in the oven and preheat oven to 400░F

4. Form the dough into a ball, then flatten to about 1 cm thickness on a heavily-floured work surface.

5. Sprinkle with the olives, then roll up. Form into a ring, a ball and then into a flat oval.

6. If you wish, cut the dough into several pieces. I cut it into 4 or 5. Slice angled slits into the dough, then gently pull them open. Transfer to a greased cookie sheet and brush with more olive oil.

7. Let rest at room temperature for 20 minutes.
Place the cookie sheet on a rack in the middle of the oven. Pour 1 cup hot water into the empty broiler pan and quickly close the oven door.

8. Bake 20-25 minutes, until puffy and golden brown.

Serving Size:ámakes 400 g which I divide into five 80 g portions.


Great Stories from around the Web
Rate This Recipe