Nutritional Info
Servings Per Recipe: 10
Amount Per Serving

Calories: 30.1
Total Fat:

0.8 g

Cholesterol:

0.0 mg

Sodium:

4.6 mg

Total Carbs:

6.4 g

Dietary Fiber:

0.9 g

Protein:

0.9 g
Report Inappropriate Recipe
Sweet Tomato Jam - 2 Tablespoons
Submitted by: CHUCKLES0719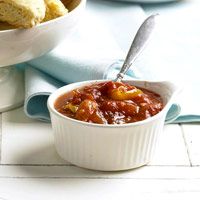 Introduction
The original recipe from http://www.recipe.com/sweet-to
mato-jam/
The original recipe from http://www.recipe.com/sweet-to
mato-jam/
Ingredients
1 ½ lb. plum tomatoes, coarsely chopped (3 cups)




½ cup Splenda or Truvia




½ tsp. ground cinnamon




1 tablespoon orange, mashed




1 clove garlic, crushed




½ lemon, juiced




Zest from 1 lemon




¼ tsp. crushed red pepper (optional)



Tips
Try this sweet, spreadable tomato jam recipe that's perfect for toast or as an accompaniment to your favorite meat.It is great with pimento cheese sandwiches...try grilling it!
Directions
1. In saucepan combine tomatoes, Splenda, cinnamon, orange, garlic, lemon juice, lemon zest and crushed red pepper. Bring to boiling, stirring often.
2. Reduce heat; cook, uncovered, over medium-low for 60 minutes or until thickened, stirring occasionally. Remove from heat
3. Transfer to a bowl; cool. Serve or store covered in refrigerator up to 3 days.

Reduces to ten (2 tablespoons) servings.



Rate This Recipe