Nutritional Info
Servings Per Recipe: 2
Amount Per Serving
Calories:

348.8
Total Fat:

16.5 g

Cholesterol:

46.7 mg

Sodium:

1,211.3 mg

Total Carbs:

25.7 g

Dietary Fiber:

14.6 g

Protein:

39.2 g
Report Inappropriate Recipe
Chicken Soft Tacos with Creamy Salsa Verde Sauce
Submitted by: COPPERHEAD71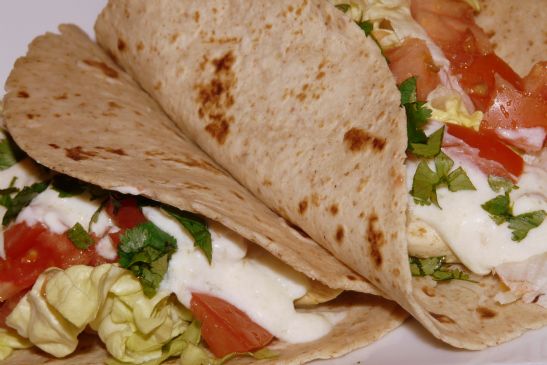 Introduction
You'll be able to whip up this delicious, nutritious dinner in about 20 minutes, but your family will think you slaved for hours. The easy creamy salsa verde sauce is a perfect topper to my chicken soft tacos. Pair it with my Avocado Fruit Salad, a tangy salad featuring avocado, grapefruit and mango for a great south of the border inspired meal.

For a video demonstration of this recipe, and many more delicious dishes, "like" Colleen's Kitchen on Facebook at www.facebook.com/ColleensKitchen1 or follow my blog at colleens-kitchen.blogspot.com

(Note that the nutritional values of the marinade for the chicken in this recipe have been halved since much of the marinade is discarded.)
You'll be able to whip up this delicious, nutritious dinner in about 20 minutes, but your family will think you slaved for hours. The easy creamy salsa verde sauce is a perfect topper to my chicken soft tacos. Pair it with my Avocado Fruit Salad, a tangy salad featuring avocado, grapefruit and mango for a great south of the border inspired meal.

For a video demonstration of this recipe, and many more delicious dishes, "like" Colleen's Kitchen on Facebook at www.facebook.com/ColleensKitchen1 or follow my blog at colleens-kitchen.blogspot.com

(Note that the nutritional values of the marinade for the chicken in this recipe have been halved since much of the marinade is discarded.)
Ingredients
Juice of 1 lime




1 tbsp olive oil




1/2 tsp ground cumin




1/2 tsp coarse sea salt




2 cloves garlic




4 boneless, skinless chicken breast tenderloins




4 small (50 cal.) La Tortilla Factory Low Carb, High Fiber Whole Wheat Flour Tortillas




1 roma tomato, diced




1/2 cup lettuce, shredded




1/2 cup Sargento reduced-fat mexican blend shredded cheese




1 tbsp chopped cilantro




1/4 cup reduced-fat sour cream




2 tbsp green salsa
Directions
Preheat the oven to 400.

Whisk together the lime juice, olive oil, cumin, salt and garlic. Pour into a resealable plastic bag with the chicken tenderloins, seal and refrigerate for 10 minutes.

Wrap the tortillas in aluminum foil and put in the oven for 5-10 minutes until heated through.

Stir together the sour cream and salsa.

Cook the marinated chicken in a grill pan about 2-3 minutes on each side until cooked through. Assemble the tacos by placing 1 chicken tenderloin in the center of each tortilla. Top each with 1/4 of the cheese, 1/4 of the lettuce, and 1/4 of the tomato. Drizzle with the salsa verde/sour cream salsa and sprinkle a bit of the fresh cilantro on top. Serve immediately and enjoy!

Serving Size: Makes 4 soft tacos, 2 per person

Number of Servings: 2

Recipe submitted by SparkPeople user COPPERHEAD71.


Great Stories from around the Web
Rate This Recipe