Nutritional Info
Servings Per Recipe: 2
Amount Per Serving
Calories:

379.5
Total Fat:

6.4 g

Cholesterol:

243.8 mg

Sodium:

3,333.8 mg

Total Carbs:

35.8 g

Dietary Fiber:

4.5 g

Protein:

35.2 g
Report Inappropriate Recipe
Prawn Risotto
Submitted by: JACKBQ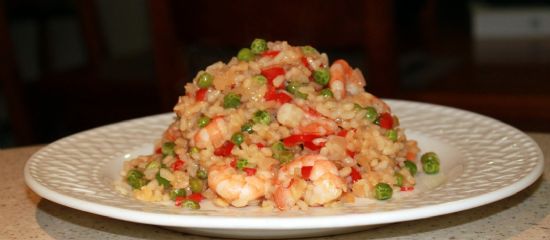 View the original recipe for
Prawn Risotto
Introduction
Rice dish with prawns and vegetables
Rice dish with prawns and vegetables
Ingredients
1 diced onion, finely diced




1/4 large red capsicum, finely diced




2 cloves garlic, crushed




1 red chilli, finely diced




1/2 cup white wine




3/4 cup of rice




4 cups, chicken or fish stock, salt reduced




1 cup peas, unfrozen




250 grams cooked prawns (shrimps)



Directions
Heat stock in a saucepan until boiling, then reduce to a simmer, leave covered until required.
Heat a little oil in a heavy based pan, add the onion, capsicum, chilli and garlic, sauté for 7 minutes or until onions are nice and soft.
Add the wine and cook until it has all evaporated.
add the rice, mixing in well with the onion mix, cook while stirring for a minute.
Add the stock, stir in well, bring to the boil, then lower to a simmer and cook for 15 minutes, stirring occasionally.
Add the peas and prawns and cook for a further five minutes.
Turn off the heat and allow to stand, uncovered for 5 minutes, then serve.



Great Stories from around the Web
Rate This Recipe