Nutritional Info
Servings Per Recipe: 8
Amount Per Serving
Calories:

235.3
Total Fat:

8.3 g

Cholesterol:

0.0 mg

Sodium:

69.8 mg

Total Carbs:

42.5 g

Dietary Fiber:

9.0 g

Protein:

5.5 g
Report Inappropriate Recipe
"Sugar-free" Cookie Dough Dip
Submitted by: SHAI55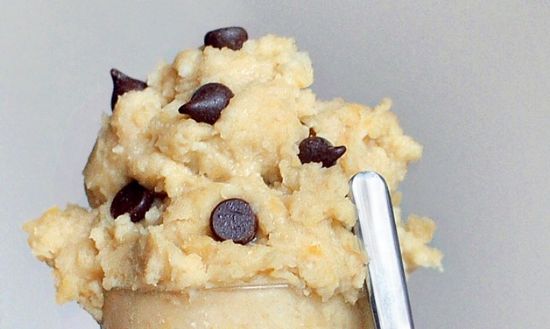 Introduction
This dip is high in protein, high in fiber, gluten-free, and it can even be sugar-free.
It takes a little planning ahead because the dates need to soak for at least 8 hours. Also, if using dried chickpeas, they need to soak overnight (or "quick soak" method which still requires 1 hr soak) and then simmer for another hour.
Recipe found at:
http://chocolatecoveredkatie.com/20
11/09/27/new-recipe-sugar-free-cookie-
dough-dip/
This dip is high in protein, high in fiber, gluten-free, and it can even be sugar-free.
It takes a little planning ahead because the dates need to soak for at least 8 hours. Also, if using dried chickpeas, they need to soak overnight (or "quick soak" method which still requires 1 hr soak) and then simmer for another hour.
Recipe found at:
http://chocolatecoveredkatie.com/20
11/09/27/new-recipe-sugar-free-cookie-
dough-dip/
Ingredients
1 1/2 cups DRAINED chickpeas (1 250g can or 135g dried)




heaping 1/8 tsp salt




tiny bit over 1/8 tsp baking soda




4 tsp pure vanilla extract




1/4 cup peanut butter (You can get away with using only 3 T. I used full amount)




1 and 1/4 cup pitted dates (I used the soft packaged ones, from a regular grocery store, like SunMaid)




1/3 cup chocolate chips (see link in description for a sugar-free option of these - I used real chocolate chips)




2 T oats (I didn't use)




nondairy milk as needed (I didn't use but will be required if you use the oats)
Tips
There is a very slight peanut butter taste but not enough to warrant calling this a peanut butter cookie dough. Also, I felt that the dates threw off the expected cookie-dough taste but it was still very sweet and tasty! The same site indicated in the description has another version of this which replaces the dates with brown sugar - it probably tastes closer to a cookie-dough.
Directions
In a bowl, cover the dates with 1/2 cup water. Let this sit for at least 8 hours.
Then add all ingredients (including the dates' soaking liquid), except chocolate chips, to a food processor (NOT BLENDER) and blend until very smooth.

Serving Size: 8 servings

Number of Servings: 8

Recipe submitted by SparkPeople user SHAI55.


Great Stories from around the Web
Rate This Recipe