Nutritional Info
Servings Per Recipe: 2
Amount Per Serving
Calories:

196.9
Total Fat:

2.3 g

Cholesterol:

41.7 mg

Sodium:

596.0 mg

Total Carbs:

19.9 g

Dietary Fiber:

2.0 g

Protein:

25.3 g
Report Inappropriate Recipe
Cider Chicken with Apples and Thyme
Submitted by: COPPERHEAD71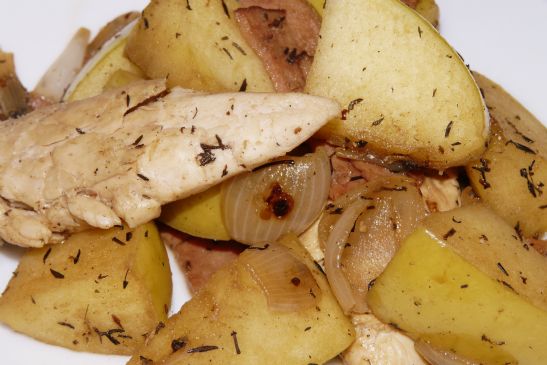 Introduction
Surprise your special someone with this deceptively easy dish. The Cider Chicken with Apples and Thyme is bursting with juicy apple flavor accented by lemony thyme and smoky turkey bacon. I recommend this with a side of my Honey Roasted Carrots. It's so good, it's hard to believe it's good for you too.

For a video demonstration of this recipe, and many more delicious dishes, "like" Colleen's Kitchen on Facebook at www.facebook.com/ColleensKitch
en1 or follow my blog at colleens-kitchen.blogspot.com.


(Note that on the advice of my nutritionist the nutritional value of the cider was reduced by 25% since a lot of the alcohol burns off in the cooking process.)
Surprise your special someone with this deceptively easy dish. The Cider Chicken with Apples and Thyme is bursting with juicy apple flavor accented by lemony thyme and smoky turkey bacon. I recommend this with a side of my Honey Roasted Carrots. It's so good, it's hard to believe it's good for you too.

For a video demonstration of this recipe, and many more delicious dishes, "like" Colleen's Kitchen on Facebook at www.facebook.com/ColleensKitch
en1 or follow my blog at colleens-kitchen.blogspot.com.


(Note that on the advice of my nutritionist the nutritional value of the cider was reduced by 25% since a lot of the alcohol burns off in the cooking process.)
Ingredients
4 boneless, skinless chicken breast tenderloins




10 fresh white pearl onions, peeled and halved




2 slices turkey bacon, diced




1/4 tsp coarse sea salt




freshly ground black pepper




1 tsp dried thyme




1/2 cup hard apple cider (should be at least 6% alcohol)




1 firm apple, chopped (like a granny smith or golden delicious)
Directions
Heat a skillet over medium heat and coat with nonstick cooking spray. Sear the tenderloins about 1-2 minutes on each side until cooked on the outside but still slightly pink on the inside. Remove from pan and set aside.

Add the pearl onions and turkey bacon to the pan and cook until the onions are tender and the bacon is crisped. Add the salt, pepper, thyme and hard cider. Use the back of a wooden spoon to scrape up the crusty bits off the bottom of the pan. Add the chicken back to the pan and add in the apple. Mix well to coat everything and cook about 5 more minutes until the chicken is cooked through and the apples are slightly tender. Be careful not to overcook the apples!

Serve immediately.

Serving Size: Makes 2 servings

Number of Servings: 2

Recipe submitted by SparkPeople user COPPERHEAD71.


Great Stories from around the Web
Rate This Recipe