Whole Wheat Rice with Onion (LV)
Nutritional Info
Servings Per Recipe: 7
Amount Per Serving
Calories:

127.6
Total Fat:

2.1 g

Cholesterol:

2.9 mg

Sodium:

376.8 mg

Total Carbs:

24.2 g

Dietary Fiber:

1.9 g

Protein:

3.2 g
Report Inappropriate Recipe
Submitted by: LADYVARGAS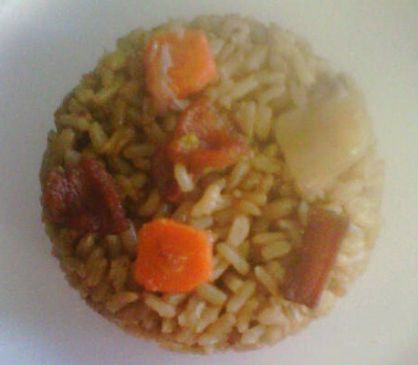 Introduction
WW Point Plus 8 onzas de arroz = 6 PP
4 onzas= 3 PP
WW Point Plus 8 onzas de arroz = 6 PP
4 onzas= 3 PP
Ingredients



Ingredients:




Water, tap, 1 cup (8 fl oz)




Whole Grain Brown Rice (Uncle Ben's)LV, 1 cup





Louis Rich Turkey Bacon (1 slice), 1 serving




Onions, raw, .25 cup, chopped




Carrots, raw, 1 small (5-1/2" long)




French Onion Campbell's, 4 ounces




*recao, 1 tbsp (Choped)




Cilantro, raw, 1 tbsp (Choped)




Oregano, 1 tbsp (choped)




*Soy Sauce, 1 tbsp




Mazola, caldo de pollo (polvo), 1 tsp




Water, tap, 1 cup (8 fl oz)
Tips
Yo cocino en ollas Lifetime, el tiempo de cocción en alguna otra olla puede variar.
Directions
Dejar remojar el arroz (1 taza de agua por 1 taza de arroz) por lo menos 1 hora.
Mientras se remoja el arroz cortar y medir todos los ingredientes que vas a usar.
. sofrie la tocineta, cuando este lista, sacala y dejala aparte.
.En la grasita que soltó la tocineta, sofrie la cebolla y .vas agregando la zanahoria,recao,oregano,cilantrillo,caldo de cebolla, 1 sobrecito de salsa soya y el caldo de pollo mazola.
.Añades el arroz, le echas el agua y lo tapas.
cocinalo por 30 minutos de medium a low.
.Dejalo tapado 15 minutos
.Pasado los 15 minutos, lo destapas, lo meneas y le añades la tocineta que habias reservado.
.Listo y disfrutalo

Serving Size: Makes 7 4 ounces -servings

Number of Servings: 7

Recipe submitted by SparkPeople user LADYVARGAS.


Great Stories from around the Web
Rate This Recipe
Member Ratings For This Recipe
MUY RICO Y FACIL DE PREPARAR MMMMM

- 3/12/12

Reply from

LADYVARGAS

(3/12/12)

Gracias Maritza, intentalo.

otra variacion seria haciendo el arroz integral en la arrocera (con el frech onion) (en la arrocera es como unico me queda bien el arroz integral) ... y cuando este ready sofreir el bacon , cebolla, zanahorai, etc en un wok.... luego intergrar el rice y add la salsa soya..

- 3/12/12

Reply from

LADYVARGAS

(3/12/12)

Me gusta, esa tambien. Lo unico que no me gusta de la mayoria de las arroceras es que son de aluminio o tienen teflon y eso nos hace daño.
Pero la idea esta chevere para los que no tienen ollas Lifetime. Gracias Vega.