Nutritional Info
Servings Per Recipe: 1
Amount Per Serving
Calories:

171.2
Total Fat:

1.0 g

Cholesterol:

35.0 mg

Sodium:

195.9 mg

Total Carbs:

17.2 g

Dietary Fiber:

0.0 g

Protein:

21.3 g
Report Inappropriate Recipe
Protein Coffee
-->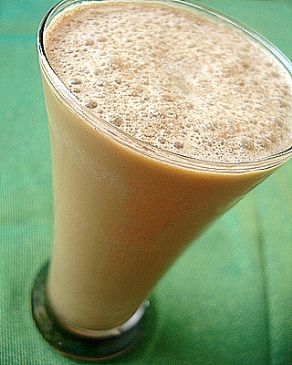 Introduction
For on the go!
For on the go!
Ingredients
2 T. + 2 1/2 t. vanilla protein powder




1/3 cup dry milk powder




1/2 cup water




3 tsp french vanilla sugar free/fat free coffee mix (kroger)




1 cup coffee (hot or cold)




ice - optional
SparkPeople Sponsored Video
Directions
Mix all ingredients except ice in a blender. Pour into smoothie cup or glass & add ice.

***To make this hot - keep coffe hot, mix water milk & protein powder. Mix coffee & instant coffe. Then blend the two together for a hot drink.

Serving Size: serves 1

Number of Servings: 1

Recipe submitted by SparkPeople user BUDGETMOM.


Great Stories from around the Web
Rate This Recipe