Nutritional Info
Servings Per Recipe: 2
Amount Per Serving
Calories:

95.4
Total Fat:

4.1 g

Cholesterol:

10.0 mg

Sodium:

486.3 mg

Total Carbs:

9.4 g

Dietary Fiber:

2.0 g

Protein:

5.3 g
Report Inappropriate Recipe
Celery Root Mash with Mushrooms and Blue Cheese
Submitted by: COPPERHEAD71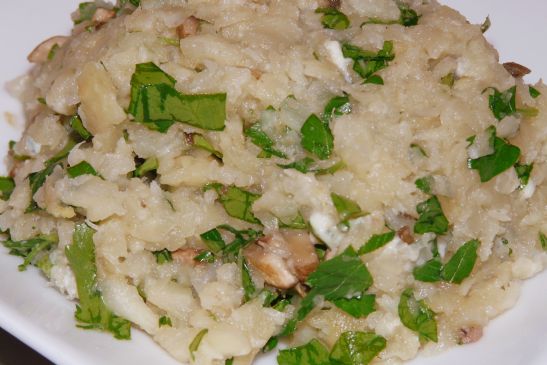 Introduction
What if I told you that you could make a gourmet restaurant quality meal in your own home in less than 30 minutes and have it be low in fat and calories? Well this meal is all of that and more. Fennel seed lends an earthy, pungent flavor to the lean flank steak, while a side of celery root mash with mushrooms and blue cheese boasts the creaminess of mashed potatoes with more flavor and less calories. Bon appetit!

For a video demonstration of this recipe, and many more delicious dishes, "like" me on Facebook at www.facebook.com/ColleensKitchen1 or follow me at colleens-kitchen.blogspot.com

(Note
: I have reduced the nutritional value of the vegetable broth to 1/4 cup since most of the broth is discarded.)
What if I told you that you could make a gourmet restaurant quality meal in your own home in less than 30 minutes and have it be low in fat and calories? Well this meal is all of that and more. Fennel seed lends an earthy, pungent flavor to the lean flank steak, while a side of celery root mash with mushrooms and blue cheese boasts the creaminess of mashed potatoes with more flavor and less calories. Bon appetit!

For a video demonstration of this recipe, and many more delicious dishes, "like" me on Facebook at www.facebook.com/ColleensKitchen1 or follow me at colleens-kitchen.blogspot.com

(Note
: I have reduced the nutritional value of the vegetable broth to 1/4 cup since most of the broth is discarded.)
Ingredients
1 celery root, peeled and cubed (about 1.5 cups cubed)




2 cups homemade, salt free vegetable broth




4 crimini (brown) mushrooms, minced




1/4 tsp coarse sea salt




1 clove garlic, minced




1/4 cup chopped Italian parsley




2 tbsp crumbled blue cheese
Directions
Put the cubed celery root into the broth in a medium saucepan and bring to a boil. Reduce heat and let gently boil for 20-25 minutes until very tender.

Meanwhile, heat a small skillet coated with nonstick cooking spray over medium heat. Saute the mushrooms, salt and garlic until the mushrooms have released their water and reduced in size. Remove from heat.

Drain the celery root, reserving the broth. Using a potato masher, mash up the root as finely as possible, adding only a minimal amount of broth as necessary. Use a fork to cream the celery root and make it even finer. The consistency should be about the same as mashed potatoes.

Stir the mushroom/garlic mixture and parsley into the mashed celery root, mixing well. Add in the blue cheese and stir. Serve immediately.

Serving Size: Makes 2 servings

Number of Servings: 2

Recipe submitted by SparkPeople user COPPERHEAD71.


Great Stories from around the Web
Rate This Recipe