Nutritional Info
Servings Per Recipe: 8
Amount Per Serving
Calories:

361.9
Total Fat:

21.0 g

Cholesterol:

0.0 mg

Sodium:

0.0 mg

Total Carbs:

23.1 g

Dietary Fiber:

0.0 g

Protein:

20.6 g
Report Inappropriate Recipe
JASONZ's Triple Cheddar Tater Tot Casserole
Submitted by: JASONZ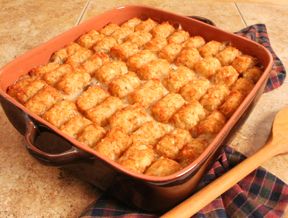 Introduction
Fast, easy, tater tot casserole will feed a lot of hungry people.
Fast, easy, tater tot casserole will feed a lot of hungry people.
Ingredients
1 x 8 oz. bag of Kraft Triple Cheddar With A Touch of Philly Natural Shredded Cheese





1 x lb. of 96/4 ground beef





80 x tater tots





1 x 10.75 oz. can of Campbell's 98% fat free Cream of Chicken Soup




Tips
To kick it up a notch, sprinkle a little Tony Chachere Original Creole Seasonings on top of the tater tots before baking them in the oven.
Directions
1) Preheat oven to 425 degrees
2) Brown ground beef in medium sauce pan.
3) Rinse and drain beef (the cuts down on fat and calories)
4) Add can of chicken soup to ground beef and stir to combine
5) Evenly distribute beef/chicken soup mixture on bottom of casserole dish.
6) Cover top of beef/chicken soup mixture with tater tots (about 80 depending on the size of casserole dish you used)
7) Place casserole dish in preheated oven and bake until tots begin to get crispy (about 30 minutes)
8) Take casserole dish out of oven, then evenly distribute cheese on top of tater tots
9) Return dish to oven
10) Casserole is done when cheese is baked to golden deliciousness!
11) Cut into eight even squares and serve.

Serving Size: 8 x 3 inch squares

Number of Servings: 8

Recipe submitted by SparkPeople user JASONZ.


Great Stories from around the Web
Rate This Recipe