Nutritional Info
Servings Per Recipe: 6
Amount Per Serving
Calories:

191.9
Total Fat:

1.0 g

Cholesterol:

0.0 mg

Sodium:

346.2 mg

Total Carbs:

36.9 g

Dietary Fiber:

6.8 g

Protein:

8.9 g
Report Inappropriate Recipe
Slow Cooker Curried Vegetable Stew
Submitted by: COPPERHEAD71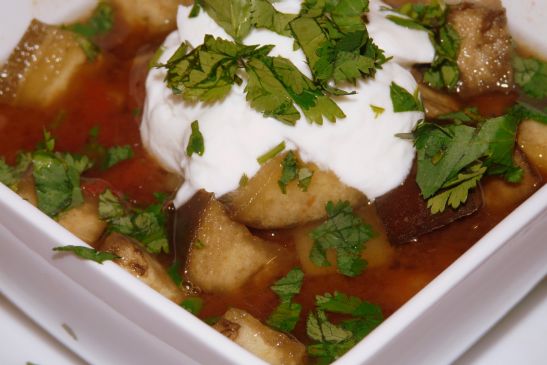 Introduction
Observing 1-2 vegetarian days each week has been a cornerstone of my weight loss plan, and this stew is perfect for those days. The flavors of curry, eggplant, potatoes, and garbanzo beans transport you to the east, while the stew is so thick and hearty it won't leave you missing your meat. Topping a bowl with a dollop of creamy nonfat, plain Greek yogurt and a sprinkling of freshly chopped cilantro perfects the dish. Enjoy!

For a video demonstration of this recipe, and many more delicious dishes, "like" me on Facebook at www.facebook.com/ColleensKitch
en1 or follow my blog at colleens-kitchen.blogspot.com
Observing 1-2 vegetarian days each week has been a cornerstone of my weight loss plan, and this stew is perfect for those days. The flavors of curry, eggplant, potatoes, and garbanzo beans transport you to the east, while the stew is so thick and hearty it won't leave you missing your meat. Topping a bowl with a dollop of creamy nonfat, plain Greek yogurt and a sprinkling of freshly chopped cilantro perfects the dish. Enjoy!

For a video demonstration of this recipe, and many more delicious dishes, "like" me on Facebook at www.facebook.com/ColleensKitch
en1 or follow my blog at colleens-kitchen.blogspot.com
Ingredients
1 small eggplant, cubed




1 lb. red potatoes, cubed




1 can garbanzo beans, drained and rinsed




1 can diced, no salt added tomatoes




4 cups homemade, salt-free vegetable broth




2 tsp curry powder




1 1/2 tsp ground coriander




1 tsp cumin seed




1 tbsp freshly grated ginger root




freshly ground black pepper




1/2 tsp coarse sea salt




2 tbsp plain, nonfat Greek yogurt per serving (3/4 cup total)




1 tbsp freshly chopped cilantro per serving (6 tbsp total)
Directions
Combine the eggplant, potatoes, garbanzo beans, tomatoes, broth, curry powder, coriander, cumin seed, ginger root, salt and pepper in a slow cooker. Cook on low for 8-10 hours. Serve each bowl topped with Greek yogurt and freshly chopped cilantro.

Serving Size: Makes 6 1.5-cup servings

Number of Servings: 6

Recipe submitted by SparkPeople user COPPERHEAD71.


Great Stories from around the Web
Rate This Recipe