Nutritional Info
Servings Per Recipe: 4
Amount Per Serving

Calories: 136.3
Total Fat:

2.9 g

Cholesterol:

70.1 mg

Sodium:

61.5 mg

Total Carbs:

0.0 g

Dietary Fiber:

0.0 g

Protein:

25.9 g
Report Inappropriate Recipe
Perfect Grilled Chicken
Submitted by: GRILLGUIDE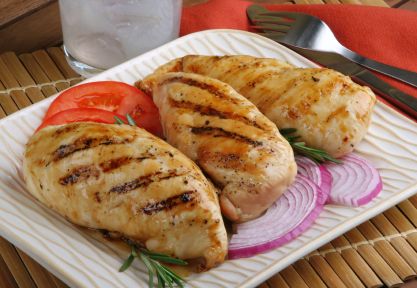 Introduction
A fool-proof guide to great grilled chicken.
A fool-proof guide to great grilled chicken.
Ingredients
Tips
If you use larger pieces of meat, they will take longer to cook. Always use a meat thermometer to test the internal temperature. Poultry should be cooked to 165 degrees--never less!
Directions
This recipe is part of our new e-book:
"SparkPeople's Ultimate Grilling Guide: 75 Hearty, Healthy Recipes You Can Really Sink Your Teeth Into,"
available now on Barnes and Noble and Amazon for $3.99.
Preheat the grill to 375 degrees. Scrape the grill grates to remove any burned-on food residue.
Generally chicken breasts are sold weighing 6-7 ounces. Starting at the larger end, use short strokes to slice the breast in half and open it as you would a book. This is called "butterflying" the chicken. Place the chicken between two sheets of plastic wrap or parchment paper; gently tap the thick end with a meat mallet or rolling pin to even out the thickness of the entire breast. Cut the breasts into 3-4-ounce portions. Pat the meat dry with a paper towel. Lightly coat with nonstick spray. Sprinkle both sides with the rub.
To achieve the traditional crosshatch markings, place each breast onto a preheated grill with the breast facing the "10:00" position. Close the lid, and let the chicken cook for 3-4 minutes. Open the lid, rotate the breast to the "2:00" position, and cook an additional 3-4 minutes. Open the lid again, flip the breasts, and cook until internal temperature reaches 165 degrees, about 4 more minutes.
Remove from the grill and allow to rest for 1-2 minutes before slicing. Serve with the hatchmarks facing up.
Serves 4: 3-4 ounces chicken (weight after cooking)
Rate This Recipe
Member Ratings For This Recipe