Nutritional Info
Servings Per Recipe: 4
Amount Per Serving
Calories:

146.6
Total Fat:

1.6 g

Cholesterol:

5.0 mg

Sodium:

338.2 mg

Total Carbs:

28.0 g

Dietary Fiber:

3.6 g

Protein:

6.3 g
Report Inappropriate Recipe
Wasabi Coleslaw
Submitted by: COPPERHEAD71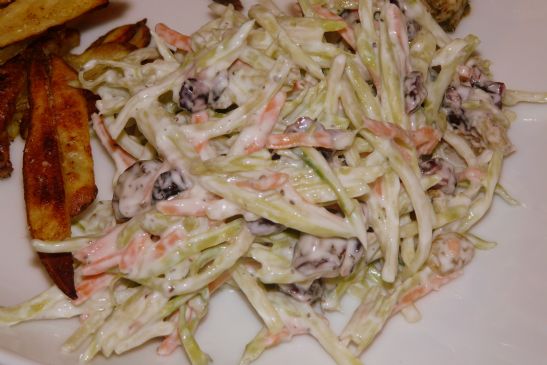 Introduction
To celebrate my first webisode in my new kitchen, we are going around the world today to inspire the flavors of our meal. We'll start in Japan with a creamy zesty coleslaw boasting a hint of wasabi. Then it's on to India for some golden, curry spiced fries that are baked to crispy perfection. And finally we'll end our journey in Italy with some tender shrimp coated in parmesan and a blend of Italian herbs. Just like the world we live in today, these global flavors converge to create a delicious yet healthy meal. Enjoy!

For a video demonstration of this recipe, and many more delicious dishes, "like" Colleen's Kitchen on Facebook at www.facebook.com/ColleensKitchen1 or follow my blog at colleens-kitchen/blogspot.com
To celebrate my first webisode in my new kitchen, we are going around the world today to inspire the flavors of our meal. We'll start in Japan with a creamy zesty coleslaw boasting a hint of wasabi. Then it's on to India for some golden, curry spiced fries that are baked to crispy perfection. And finally we'll end our journey in Italy with some tender shrimp coated in parmesan and a blend of Italian herbs. Just like the world we live in today, these global flavors converge to create a delicious yet healthy meal. Enjoy!

For a video demonstration of this recipe, and many more delicious dishes, "like" Colleen's Kitchen on Facebook at www.facebook.com/ColleensKitchen1 or follow my blog at colleens-kitchen/blogspot.com
Ingredients
12 oz. broccoli slaw mix




1/2 cup golden berry blend (a blend of raisins, dried cherries and dried cranberries)




1/4 cup light sour cream




1/2 cup nonfat, plain Greek yogurt




1 tbsp apple cider vinegar




2 tbsp lemon juice




2 tsp wasabi horseradish




1/2 tsp celery seed




1 tsp sugar




1/2 tsp fine sea salt




freshly ground black pepper
Tips
This can be served immediately, but I recommend preparing this at the beginning of your meal prep and letting it sit in the fridge until the rest of your meal is ready in order to let the flavors really combine.
Directions
Combine the broccoli slaw mix and golden berry blend in a salad bowl. In a small mixing bowl, whisk together the rest of the ingredients. Pour the dressing over the slaw mix and toss to coat well.

Serving Size: Makes 4 servings of about 1.25 cups each

Number of Servings: 4

Recipe submitted by SparkPeople user COPPERHEAD71.


Great Stories from around the Web
Rate This Recipe