Nutritional Info
Servings Per Recipe: 4
Amount Per Serving

Calories: 196.7
Total Fat:

2.3 g

Cholesterol:

172.3 mg

Sodium:

172.8 mg

Total Carbs:

21.2 g

Dietary Fiber:

2.4 g

Protein:

24.0 g
Report Inappropriate Recipe
Grilled Shrimp with Mango-Chili Sauce
Submitted by: GRILLGUIDE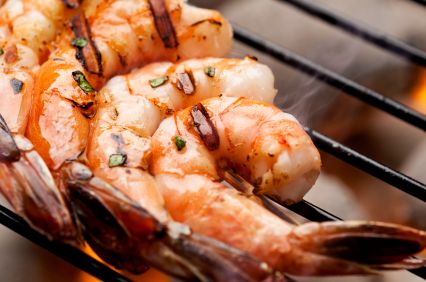 Introduction
This sauce does double-duty: grilling glaze and dip.
This sauce does double-duty: grilling glaze and dip.
Ingredients
Sauce:




6 green onions, whites only




1 Serrano chili, seeds removed, cut into thirds




2 mangos, peeled and chopped, or 10 oz frozen chunks, thawed*




1 lemon, zested and juiced




1 bunch cilantro, leaves only





Shrimp:




1 pound easy-peel shrimp (21-25 per pound), deveined but not peeled



*WATCH: How to Cut a Mango

Tips
Sauce will keep for 2 days or frozen for 3 months.
This is one of my rainy day favorites when it's too wet to grill outside.
Keeping the shell on the shrimp locks in moisture while you grill them, and it keeps them from sticking.

You can use this technique with the sauce of your choice.

This recipe was featured in our e-book, "SparkPeople's Ultimate Grilling Guide."


Directions
Preheat the grill to 450 degrees F. (Rainy day? "Grill" on top of the stove.)

Make the sauce: Puree the green onions and chili pepper in a blender or food processor, then add the remaining ingredients and process until smooth, adding 1-2 tablespoons of water if necessary. (If you used thawed frozen mango, you won't need water.) Set aside 2 tablespoons of the sauce and refrigerate the rest.

Spray a nonstick or cast-iron grill pan with nonstick spray. Rinse the shrimp and pat dry. Lightly brush the shrimp with the reserved sauce.
Add the shrimp to the hot pan. Cook for three minutes, flip and cook for another 2 minutes, until the shrimp is firm and opaque.
Remove from heat, peel as you eat, and serve with dipping sauce.


Serving Size: 5-6 shrimp and 1/2 cup of sauce per serving.


Rate This Recipe
Member Ratings For This Recipe