Nutritional Info
Servings Per Recipe: 6
Amount Per Serving
Calories:

112.7
Total Fat:

4.4 g

Cholesterol:

16.7 mg

Sodium:

124.2 mg

Total Carbs:

13.5 g

Dietary Fiber:

1.2 g

Protein:

4.7 g
Report Inappropriate Recipe
Savory Goat Cheese and Pear Tart
Submitted by: COPPERHEAD71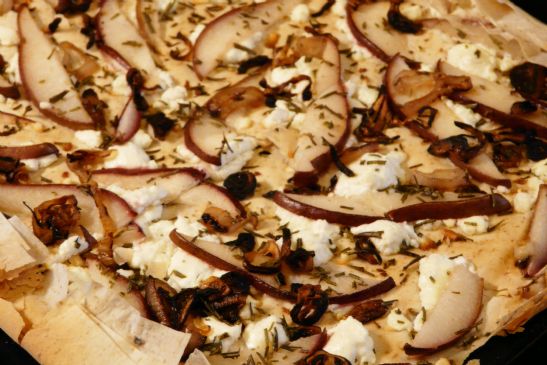 Introduction
Today I have a delicious and low-calorie savory tart for you. By using a phyllo (aka fillo) dough crust, I've leaned out the recipe while keeping it delicious with creamy goat cheese, sweet red anjou pear, caramelized shallots, and fragrant fresh rosemary. Try it with a simple green salad on the side for a quick and tasty meal. Enjoy!

For a video demonstration of this recipe, and many more delicious dishes, "like" Colleen's Kitchen on Facebook at www.facebook.com/ColleensKitchen1 or follow my blog at http://colleens-kitchen.blogspot.com
Today I have a delicious and low-calorie savory tart for you. By using a phyllo (aka fillo) dough crust, I've leaned out the recipe while keeping it delicious with creamy goat cheese, sweet red anjou pear, caramelized shallots, and fragrant fresh rosemary. Try it with a simple green salad on the side for a quick and tasty meal. Enjoy!

For a video demonstration of this recipe, and many more delicious dishes, "like" Colleen's Kitchen on Facebook at www.facebook.com/ColleensKitchen1 or follow my blog at http://colleens-kitchen.blogspot.com
Ingredients
2 shallots, peeled and thinly sliced




3 sheets whole wheat phyllo (fillo) dough




4 oz. plain chevre/goat cheese, crumbled




1 medium red d'anjou pear, cored and thinly sliced




1 sprig fresh rosemary, finely chopped
Directions
Preheat the oven to 375.

Coat a skillet with non-stick olive oil cooking spray and heat on medium heat. Add the shallots and saute until they are caramelized.

Spray a large baking sheet with non-stick olive oil cooking spray and lay down 1 sheet of the fillo dough. Spray that sheet with the spray and lay the second sheet on top of it, repeat for the third sheet. Sprinkle the entire surface with the goat cheese crumbles. Arrange the pears over the cheese in a single layer. Sprinkle the caramelized shallots over the pears then finally sprinkle with the rosemary. Fold over the ends of the fillo dough if they are hanging off the baking sheet a bit. Bake for 15-20 minutes until the cheese is melted and the dough is browned. Slice into 6 equal pieces and serve immediately.

Serving Size: Makes 6 servings

Number of Servings: 6

Recipe submitted by SparkPeople user COPPERHEAD71.


Great Stories from around the Web
Rate This Recipe