Nutritional Info
Servings Per Recipe: 6
Amount Per Serving
Calories:

88.1
Total Fat:

0.5 g

Cholesterol:

0.0 mg

Sodium:

2.1 mg

Total Carbs:

22.9 g

Dietary Fiber:

3.7 g

Protein:

0.3 g
Report Inappropriate Recipe
Homemade Applesauce
Submitted by: MEGTHEKIWI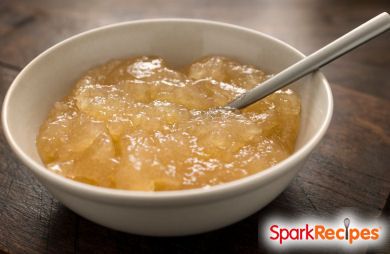 Ingredients
5 apples, peeled, cored, and chopped




4 tbsp brown sugar




3 tsp cinnamon
Directions
*Place the apple pieces in a large pot and cook on medium heat.
*Add a little water to the pot if it looks dry.
*Once all the apples are soft (about 20-30 mins) mash the apples.
*Add the brown sugar and cinnamon and stir.

Notes: I like to put this apple sauce on top of pancakes instead of syrup.
For a tasty desert: warm up the apple sauce and put ice cream on top or graham cracker crumbs :)



Number of Servings: 6

Recipe submitted by SparkPeople user MEGTHEKIWI.


Great Stories from around the Web
Rate This Recipe
Member Ratings For This Recipe
I made the applesauce out of necessity since i didnt want to open a lg jar of sauce for the small amount i needed for the recipe i was making. It was well worth making the sauce. Im covinced its better than store bought and will continue to make it. its a 5 star recipe

- 11/19/11

Reply from

MEGTHEKIWI

(11/29/11)

then why'd you give it only 1 star! ;) I'm sure that was just a mistake.

60 plus years of home made applesauce. We never used brown sugar, some times cinnamon, and some times not. We had our own orchard of apples, starting with Summer Transparent in July and ending with Winesap in October. Plus canned and frozen for winter. Used in place of jams or jellies, on pancakes.

- 12/19/13

I'm making this right now and I added all the ingredients with about 1 tsp of Vanilla extract, yummy. I didn't add the brown sugar as I don't think I'm going to need it. I only used 3 apples, I used about 21/2 apples and cooked them, will add the rest of the small chunck for yogurts.

- 2/9/11

Can you please tell me how big a serving is, according to your nutrition facts? Thanks!

- 4/3/09

Reply from

MEGTHEKIWI

(11/29/11)

It depends on the size of the apples and how long you let it cook/how small you mash up the pieces, but a serving is roughly 1/4 cup.